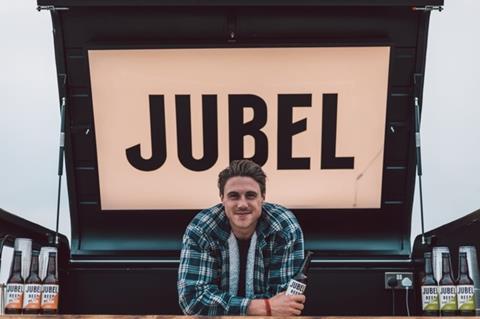 Magners owner C&C Group has acquired a minority stake in fruit-infused craft beer brand Jubel to drive its ambitious growth plans.

The deal, for an undisclosed sum, will see the Cornish startup expand across retail and the on-trade on the back of new links with C&C's distribution businesses.

The move represents a significant expansion in the craft beer category by C&C, as supermarkets continue to grow their offers in the category.

A key factor for the move was the new routes to market it would provide, Jubel said, following C&C's acquisition of Matthew Clark and Bibendum in April 2018.

Jubel was created by Jesse Wilson and Tom Jordan in 2017 to pioneer a new style of beer to appeal to drinkers put off by the "challenging" nature of some craft beer.

"We were growing, and needed some cash investment into the business, while we were also looking to unlock more of the UK distribution landscape," said Wilson. "With C&C it felt like those two things came part and parcel of the same conversation.
"There is still a huge amount of market not drinking craft beer, and we think it's possibly because typically they too hoppy, bitter and challenging for the majority of people to drink. We looked to overcome these challenges by having an accessible style of craft beer which brings more people into an exciting part of the category."
The brewer joined Sainsbury's Future Brands programme last year, securing 600 listings, which have now been doubled after four months, with the products expanding into chilled areas of convenience stores.
Jubel currently has two main SKUs, its 'alpine' lager cut with peach and an 'urban' larger cut with elderflower. Made in Cornwall, the lager is brewed to be ultra-dry and is unpasteurised.
Both brews were "crafted to uniquely deliver the refreshment of a fruit cider, with the sessionability of a crisp lager", said Jubel, and offered a lower-sugar alternative to fruit ciders. They are vegan and gluten-free, and contain no plastic in their packaging.