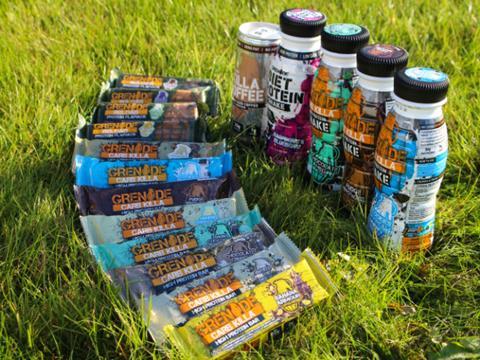 Sports nutrition business Grenade has been acquired by private equity firm Lion Capital in a deal worth £72m.
The investment group picked up the majority stake from Grovepoint Capital and Grenade's founders, husband-and-wife team Alan and Juliet Barratt.
The founders will continue to lead the business as CEO and chief marketing officer, respectively, alongside CFO and sales director Tom Murphy, who joined in 2014.
Launched in 2010, the Solihull-headquartered business has grown rapidly as consumer demand for sports supplements and protein bars has exploded, with its products used by professional athletes, fitness enthusiasts and military personnel.
Grovepoint snapped up a majority stake in Grenade in 2014, valuing the business at £35m. At the start of their partnership, Grenade offered just six products, primarily sold through specialist retailers.
Its range has more than doubled and includes distinctive products such as its signature 'Carb Killa' range of high protein bars and drinks. Distribution for its snacking products and supplements has also expanded into mainstream convenience and grocery channels in the UK and more than 100 countries overseas.
Revenues jumped more than five-fold under Grovepoint's backing, almost reaching £9m in 2015 thanks to increased listings, with about half coming from the international business from the likes of US health food chain GNC. Sales have accelerated in 2016 and continued to show strong growth so far this year, the business said.
"It has been an amazing seven years since Juliet and I first launched Grenade but really we are just getting started on our journey to build a global lifestyle brand," Alan Barratt said.
"Our team remains dedicated to innovating and creating the best products possible and we are excited to be partnering with Lion Capital. Lion's successful track record of working with global mega-brands and their understanding of our business made them a clear choice as partners for the next phase of our growth."
Lion Capital is a consumer-focused private equity firm and has previously invested in Weetabix, Kettle Chips and Orangina-Schweppes.
Lion partner James Cocker said: "Grenade has enjoyed exceptional growth over the past few years, driven by a distinctive brand and products which offer a unique combination of flavour and functional nutritional benefits.
"We have followed the business for some time and believe it is one of the most innovative players in this high-growth segment, with a product offering that is exceptionally well aligned with multiple consumer trends. We see opportunities for growth not just in the current product range but also through product and channel extension, and international expansion."
Avital Lobel, partner and head of principal investments at Grovepoint, added: "During the three years of our partnership, we have seen Grenade transform the range and distribution of its products to become one of the most exceptional fmcg brands in its segment."
Grovepoint and the existing shareholders were advised by Houlihan Lokey, DLA Piper and Deloitte. Lion Capital was advised by Stamford Partners, Proskauer, PwC and Parthenon-EY.