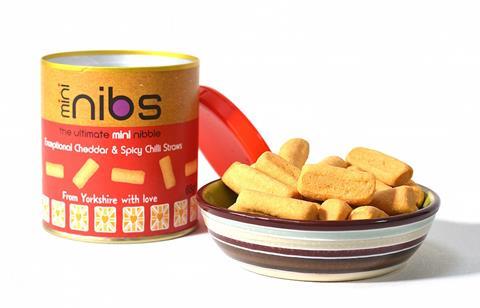 Bakery Haywood & Padgett has acquired the snack brand Nibnibs in a deal which will allow the smaller company to expand its production capabilities.
Nibnibs founder Darren Everitt and his wife Susan Dixon will continue to run the business following the acquisition. The pair said they would focus on growing the brand's share of the snack market.
"We're thrilled with the opportunities that have opened up thanks to the recent acquisition," Everitt added. "The investment from Haywood & Padgett will allow us to expand our production capabilities, enabling us to bring a host of exciting new products to the marketplace."
Nibnibs makes a range of snacks, such as cheese straws and bread sticks, at its North Yorkshire bakery.
With re-sealable packaging, the brand has tapped into the growing trend for food on the go and the company's rapid growth brought it to the attention of fellow Yorkshire company Haywood & Padgett.
"The acquisition of Nibnibs will help us fulfil our ambitions for rapid growth and expansion in the savoury snack sector," said managing director Wayne Padgett. "We're delighted to be working with Darren and Susan. Their enthusiasm and creativity have helped build a really exciting brand and, with our investment, we're looking forward to seeing the brand grow and develop further."
Haywood & Padgett, which produces 4.5 million scones a week for the retail and food service sector, is a family run bakery established more than 25 years ago. According to the latest available accounts, for the year to 31 October 2013, it now has a turnover of £20m with a profit of £1.5m, up from £16.5m and £600k in the previous 12 months.