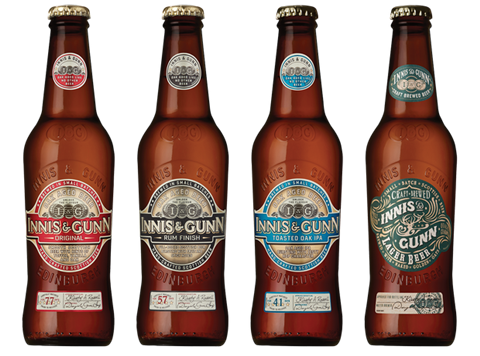 Scottish brewer Innis & Gunn has bolstered its growth plans with the acquisition of The Inveralmond Brewery in Perth.
The business said it would be investing substantially to further develop the brewery and to create a new state-of-the-art brewing and maturation facility.
Innis & Gunn funded the deal with the £3.1m raised through a 'beer bond' crowdfunding campaign last year. Investors backed the brewer and its plans to build a new brewery but it has decided to buy a site rather than construct one from scratch.
Dougal Gunn Sharp, founder and master brewer at Innis & Gunn, said: "The acquisition of Inveralmond gives us the dedicated brewing facility that we need to meet the growing demand for our beers.
"As we searched for a site for our new brewery, it became clear there was an opportunity to combine the strengths of both businesses and for us to acquire their brewery and brands.
"Taking over an already fantastic brewery gives us a rolling start in the development of our new state-of-the-art equipment and processes, meaning we can grow much faster than if we started from scratch. It means we've avoided a lot of the red tape and planning issues around building a site from the ground up and we can concentrate on what we do best – brewing beer."
The new production scale would allow Innis & Gunn to meet the growing demand for its beers at home and abroad, where exports to more than 20 countries, the business added.
The independent brewer will add more beer tanks to the Inveralmond brewery to help with the expanded production volumes and is also assessing the feasibility of installing a small bottling line in 2017.
Since its formation in 2003, Innis & Gunn has grown sales to reach £12m in in 2014 and also sells more than 20 million bottles of beer to the off-trade, including retailers such as Tesco, making it one of the biggest suppliers of craft beer to the industry.
The Inveralmond brewing team – longstanding friends of Innis & Gunn – will remain unaffected by the acquisition.
Fergus Clark, founder and MD at Inveralmond, said: "To me this feels like a real win-win. Our Inveralmond beers will gain access to a sales and distribution infrastructure that will massively accelerate the growth of our beers both at home and Internationally, while at the same time Innis & Gunn gets the brewery they want 18 months earlier than if they had to build it themselves."