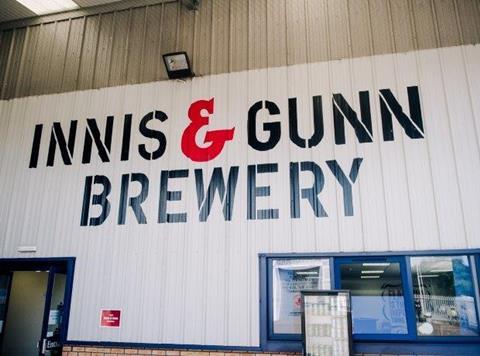 Innis & Gunn has followed in the footsteps of fellow Scottish craft brewer BrewDog and attracted the interest of a US private equity firm.
Consumer goods investor L Catterton has made an offer to buy a significant minority stake in Innis & Gunn as the craft beer category continues to boom globally.
The brewer is seeking the consent of its shareholders, which include more than 2,000 investors who put money into a £2.5m crowdfunding campaign in November 2016, for the deal to go ahead.
If Innis & Gunn gets the green light, it will sell a 27.9% stake to L Catterton for £15m.
A statement from the brewer said the offer reflected and confirmed the price paid by the crowdfunding community on Crowdcube last year.
Innis & Gunn gave the crowdfunding investors a 4.8% equity stake in the business in return for the money to accelerate growth, valuing the business at almost £50m.
Founder Dougal Gunn Sharp will remain the largest single shareholder if the sale to L Catterton completes.
"The craft beer category is booming globally, and this is a hugely exciting opportunity at the right time for us to build strongly on the solid foundations that have been laid to double our 2015 turnover by 2018," Sharp said.
"Innovation and quality have been at the heart of Innis & Gunn's success since day one, and this continues to drive us forward. Aside from providing additional capital to accelerate our growth plans, we believe L Catterton will strengthen our business with unparalleled expertise in brand building and a deep understanding of global consumer markets, sharing our vision and supporting our continued expansion and growth."
Innis & Gunn reported a 22% jump in its 2016 sales to £14.3m last month – the 13th consecutive year of volume growth. The strongest increases came from Innis & Gunn's Craft Lager and IPA brands, together with new revenue from the Inveralmond Brewery in Perth that it acquired in early 2016.
It also sells more than 20 million bottles of beer to the off-trade, including retailers such as Tesco, making it one of the biggest suppliers of craft beer to the industry.
The £2.5m raised on Crowdcube – more than £1.5m more than its initial target, with £1m being pledged within three days of launching – is being used to accelerate the rollout of the 'Beer Kitchens' bar and restaurant concept in England and North America.
Innis & Gunn also raised £3.1m in 2015 through a 'beer bond', which pays investors in beer, to fund the Inveralmond acquisition.
The offer by L Catterton for a stake in Innis & Gunn follows BrewDog selling 22% of the business to US firm TSG Consumer Partners for £213m in April this year.
Catterton has made more than 150 investments in consumer brands since it was established in 1989, including in petfood manufacturer Lily's Kitchen in 2015. Last year, the US firm formed L Catterton through a partnership with LVMH and Groupe Arnault to focus exclusively on consumer goods investments.