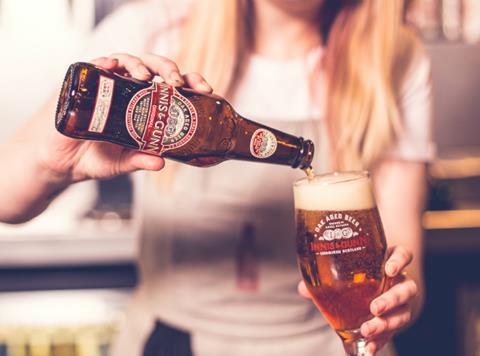 Shareholders at Innis & Gunn have waved through the £15m sale of a significant stake in the Scottish craft brewery to a US private equity house.
L Catterton, a specialist investor in consumer goods firms, offered to buy a 27.9% stake in the business earlier this month, pending a vote by the brewery's shareholders, which include thousands of crowdfunding backers who pledged £2.5m to support growth plans in November 2016.
Holders of 99% of ordinary shares gave the green light for Innis & Gunn to accept the investment offer, valuing the business at more than £50m.
The completed deal will help fuel the company's growth plans in the UK and internationally.
"We are delighted to welcome L Catterton to Innis & Gunn at a pivotal time for our business," founder and master brewer Dougal Gunn Sharp said.
"With the backing from our shareholders we're excited to move forward, strengthened with the support of L Catterton's unparalleled expertise in brand building and understanding of global consumer markets.
"This is a huge opportunity at the right time for us to build strongly on the solid foundations that have been laid to double our 2015 turnover by 2018. Innovation and quality have been at the heart of Innis & Gunn's success since day one, and this continues to drive us forward as we look to 2018 and beyond."
Founded in Scotland in 2003, Innis & Gunn is the number two craft brewer in the UK off-trade and currently exports to more than 28 countries.
The business recently reported a 22% increase in its annual group turnover to more than £14.3m in 2016 – the 13th consecutive year of volume growth.
L Catterton partner Jean-Philippe Barade added: "The craft beer category is booming globally and Innis & Gunn has established a leading position in the market with its focus on high quality and distinctive beers, loved by consumers all over the world.
"With an unmatched portfolio of products, successful retail brand, and recently acquired brewery [in Perth], the potential for this brand and business is hugely exciting and it is in an exceptionally strong place to capitalise on the growth in consumer demand for craft beer. We look forward to working with Dougal and the outstanding team at Innis & Gunn to support their vision for growth."