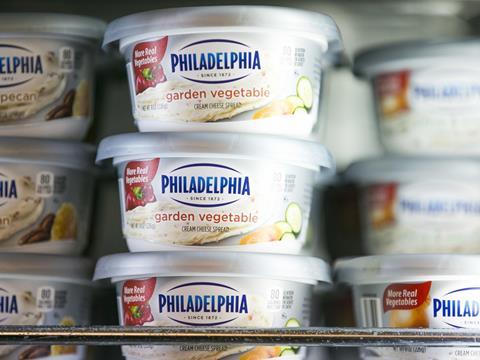 The newly formed Kraft Heinz Company is expected to begin efforts to buy back control of the Philadelphia brand from Mondelez International following this week's mega-merger.

The soft cheese spread, which is one of eight $1bn-plus brands in Kraft Heinz, is currently owned worldwide by Mondelez, except in the US and Canada.

The new Kraft Heinz Co was a more suitable buyer than Kraft on its own for the Mondelez cheese business, which was non-core to the Cadbury owner's global brand portfolio, experts said this week.

"A buyback is much more likely because of the Heinz international network," said Robert Bishop, international head of ­corporate at DLA Piper. "It would have been hard for Kraft to bolt on those assets without another business on the ground. Philadelphia is Kraft's most international US brand, and for them to be able to repatriate it worldwide would be very attractive."

Mondelez also owns the Maxwell House brand except in North and Latin America, and holds licences to manufacture a host of other Kraft brands internationally, including in the UK.

Kraft CEO John Cahill said there was "ample opportunity" to market Kraft brands overseas as international licensing deals expired, despite some having years left to run.

Warren Buffett and 3G Capital, who masterminded the deal to create the $28bn-turnover food and beverage giant, are hoping to use the Heinz global distribution network to kickstart growth away from Kraft's North American heartland.

However, concerns remain over European appetite for North American-focused Kraft brands that have struggled to generate growth at home as consumers look to healthier options.

Its licence restrictions also meant it would need to grow via acquisition rather than organically in Europe, KPMG partner Chris Stott added, with Unilever's spreads business, non-core assets at Kerry Group and Norway's Kavli all potentially up for grabs.

"3G and Buffett are not shy, so they will go and make some big offers," he predicted.

But this would have to come after the streamlining of the North American operations - Kraft Heinz is seeking annual cost savings of $1.5bn by 2017 - to generate cashflow, he added. "To be able to buy Philadelphia they will have to get rid of some of the less healthy brands in their portfolio in the US."

This in turn presents opportunities for US food producers to sweep up some non-core Kraft assets. It will also likely act as a spur for an uptick in global consumer goods M&A activity.

"We are into seriously big deal territory as the Nestlés and Pepsis of this world examine how to defend their position if this newly formed beast develops its brands to become a threat over here," said Clearwater International director John Clarke.