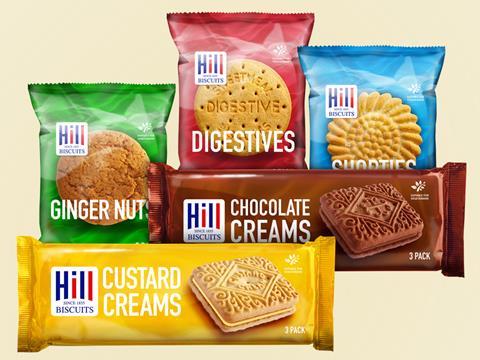 LDC is exploring an exit at Hill Biscuits after a significant investment programme boosted growth at the custard creams and bourbons maker.
The private equity firm, which last week sold Addo Food Group and a minority stake in Winterbotham Darby to PAI Partners, has engaged Clearwater International to explore its options.
A number of trade and PE houses have expressed an interest, but the process is still at an early stage, with LDC not in a rush to sell, according to City sources.
"Hill occupies that everyday value for money space – which in the current uncertain environment is a good place to be – and it has a well-invested site," one dealmaker said.
"It is a nice strategic chess piece for anyone looking at UK biscuits and snacking, with further consolidation expected over the next 18 months following Ferrero taking out Fox's."
Another industry source added that the trade players in the category had been jostling for position leaving a chance for an ambitious PE firm to roll up a number of assets simultaneously.
LDC backed a management buyout of Manchester-headquartered Hill in 2017 from the Bennett family, who completed their own MBO in 1980 when the business was owned by Rowntree's.
It planned to invest heavily in the factory to drive efficiencies and boost production. A £2.9m automation programme finished earlier this year and is expected to drive substantial growth at the business.
Newly filed Companies House accounts show Hill's sales dipped 2.9% to £19.1m in 2019 as factory capacity was constrained during the investment project.
EBITDA was flat at £1.6m as its international business expanded into new markets such as Asia and North America.
One-off costs incurred during the investment programme, along with redundancies, saw operating profits fall 39% to £155k and pre-tax losses widen by £200k to £1.6m.
Hills has secured significant contracts with new customers, as well as existing ones, since finishing upgrading the factory, growing volumes and market share as a result.
Efficiencies from the new production line has also boosted profitability.
Originally founded as a small shop in Manchester by John and Sarah Hill in 1855, the business today produces a range of digestives, ginger nuts, custard creams, bourbons, malted milks and gingerbread men under the Hill brand, as well as private label for the discounters in the UK and Europe.
LDC declined to comment, while Hills and Clearwater did not respond to requests for comment.