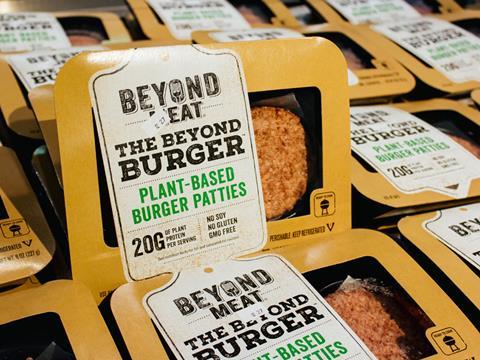 Beyond Meat is set to widen its plant-based offering into snacking and beverages after agreeing a surprise joint venture with PepsiCo.
The move will also see the consumer goods giant launch a new range of sustainable, ethical products to appeal to more health-conscious shoppers.
The joint venture – The Planet Partnership – aims to combine Beyond Meat's expertise in plant-based technology with the buying power, marketing reach and global scale of PepsiCo.
Shares in Beyond Meat soared more than 20% on the back of the unexpected deal, valuing it at $12bn.
The partnership would be beneficial for both brands as consumer demand for plant-based meat substitutes continued to grow in the US and Europe, according to GlobalData analyst Ramsey Baghdadi.
He added the deal was a "game-changer" for PepsiCo's sustainability credentials, with one in five consumers in the US considering ethically sourced ingredients to be their top priority in 2021.
"Beyond Meat is already a household name in the plant-based industry, offering Pepsi additional leverage over its competitors – namely Coca-Cola – should the company also enter the industry," Baghdadi said.
"The partnership will also give Beyond Meat the opportunity to grow on an international level and diversify its product offerings into snacks and drinks. It's a win-win."
Half the population in the UK currently eat meat substitutes, with plant-based products having a widespread appeal beyond vegetarians and vegans, according to a new report from Mintel.
In UK grocery, the meat-free market is worth £527.1m [Nielsen 52 w/e 5 September 2020], while it is expected to reach $7.1bn (£5.2bn) globally by 2025, according to The Vegan Society.
"Plant-based proteins represent an exciting growth opportunity for us, a new frontier in our efforts to build a more sustainable food system and to be a positive force for people and the planet, while meeting consumer demand for an expanded portfolio of more nutritious products," said Ram Krishnan, PepsiCo global chief commercial officer.
Beyond Meat founder and CEO Ethan Brown added the jv would unlock new categories and product lines to "inspire positive choices for both people and planet". He said PepsiCo was the ideal partner given its global reach.
The Californian tech startup, which was valued at as much as $13.4bn following its listing on NASDAQ in 2019, will be able to further accelerate its route to market capabilities, following the opening of a factory in Europe last year, its first outside the US.
The deal, for an undisclosed sum, comes after a difficult end to 2020 as Beyond Meat slumped to a surprise loss in its third quarter, sending the share price plummeting. The company blamed a lack of space in home freezers after shoppers stockpiled its products during the early stage of the pandemic, as well as the closure of the hospitality sector during lockdowns.