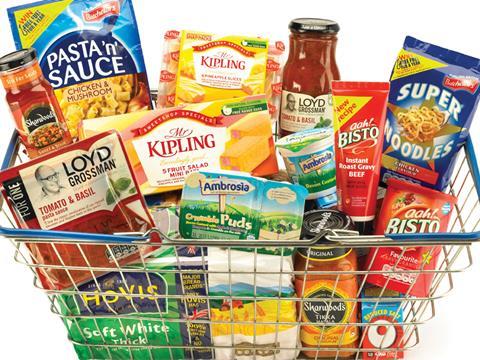 Oxo and Mr Kipling owner Premier Foods (PFD) has rejected a 60p per share cash approach from US food giant McCormick, instead opting to forge a strategic partnership with Japan's Nissin Foods.
Premier revealed this morning it has rebuffed two approaches from McCormick & Company, the most recent of which was a 60p per share approach on 14 March. McCormick mooted a bid 52p per share on 12 February before upping its potential offer last week
Premier has forcefully turned down the approach, insisting it "significantly undervalues the company and its prospects".
Premier chairman David Beever said: ""McCormick's proposal represents an attempt to capture the upside value embedded in Premier's business that rightfully belongs to Premier's shareholders. The proposal fails to recognise the value of Premier's performance to date and prospects for the future, including the strategic plans we have to accelerate growth."
The approach represents a premium of more than 90% of Premier's closing share price last night of 31.5p. Premier's shares have risen 62% to 51.1p after the approach was made public this morning.
Premier's shares price has come under heavy pressure from the supermarket price war and sales downturn across the traditional UK grocers. Its share price headed south in March 2014 (when it was at more than 160p) after a Morrisons profit warning and has languished under 50p since summer 2014, dropping back below 30p last month.
But the UK-listed food group argued the value of the approach is insufficient compared to Premier's enterprise value – which includes allowances for its significant financial debt and ongoing pension obligations.
Premier announced further growth plans this morning that it said would generate cash flows implying a price significantly higher than McCormick's current valuation of the business.
It pledged to invest another £2-4m in its three divisions in 2016/17 - sweet treats, grocery and international – that would help raise its medium term sales growth from 1-2% to 2-4%.
In sweet treats its plans to build on the trial of its cake-to-go range of Mr Kipling twin pack slices and Cadbury mini roll twin packs by accelerating growth into wider convenience channels through manufacturing investments and a dedicated new team. Grocery will target premium the premium sweets and savoury segment of the chilled grocery sector, including new health-focussed ranges, while international growth will include accelerating the rollout of its cake brands in the US after hiring a new team to drive a "step-change" in the division.
Part of this international focus includes the announcement of a new strategic partnership Japan's Nissin Foods this morning.
Nissin is a global leader in instant noodles in Japan the US and Brazil and Premier plans to use the partnership to distribute Nissin's products, which also include chilled and frozen foods, cereal-based confectionery and yoghurt beverages, into the UK market under either Nissin's or Premier's brands
The partnership will also enable Premier to ramp-up its international sales using Nissin's global scale to help distribute Premier's products in key overseas markets. Premier said the co-operation agreement will also enable the firms to leverage their joint manufacturing capabilities and infrastructure.
As part of the agreement, Nissin has said it will not make an offer for Premier for at least six months, but it has the right to take a seat on Premier's board should it acquire a shareholding of more than 15%.
CEO Gavin Darby said of the agreement: "This is an exceptional opportunity for us to gain a major strategic partner which understands our business and supports our growth ambitions. We look forward to working with Nissin to explore ways our two businesses can cooperate to better serve both our customers and our shareholders."
The Nissin partnership is dependent on Premier not being subject to an offer period under the takeover code.
In accordance with UK takeover rules McCormick is required to announce a firm intention to make and offer or walk away by 5pm on 20 April 2016.
Meanwhile, Premier has announced it intends to take back full control of the speciality powders joint venture it spun-out alongside Specialty Powders Holding in 2014.
The Knighton JV included the shifting of manufacturing assets to transfer from the Knighton site to Premier's site at Ashford, Kent, which "delivered significant efficiencies as expected" and still provides Premier with about 40% of its output.
This morning Premier said maintaining the JV "is no longer in the company's best interests" and it is therefore in negotiations to acquire the 51% of Knighton it does not already own. If successful, the deal would increase 2016/17 sales by £35m and be broadly neutral in terms of earnings. On acquisition, Premier would take on Knighton's net debt of £11m and would need to revalue its investment in Knighton which would results in a one of charge in 2015/16 of up to £10m.
Its other JV, Hovis Holdings will results in a write-down of approximately £8m, fully writing off its remaining investment in Hovis.
Premier's overall share of losses from these JVs is expected to by approximately £18m in 2015/16 as a result of on-off costs and ongoing trading.