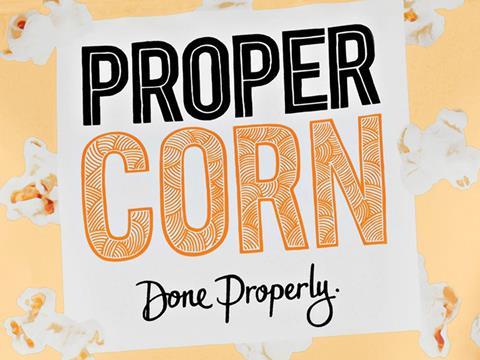 Propercorn is close to signing a deal with private equity firm Piper for a minority stake valuing the fast-growing popcorn brand at up to £25m.

It will be the first external cash injection since Propercorn was launched by Cassandra Stavrou and Ryan Kohn four years ago and follows months of talks since The Grocer revealed Propercorn's search for an investor back in February.

Propercorn was the fastest growing popcorn brand in the UK in 2015, with sales up 78% to £10.9m [IRI, y/e 5 Dec], and listings in Tesco, Waitrose, Ocado and Boots. It's also stocked in nine countries.

Piper typically invests in brands with sales of £5m-25m. Past success stories included adult soft drink brand Bottle Green, hot dog supplier Rollover and ready meal maker Diet Chef, which all substantially grew revenues under Piper. Its most recent deal was a £6m investment last September in natural petfood manufacturer Forthglade.

"Propercorn is in the sweet spot for Piper as a niche business with bags of potential," one dealmaker said. "The brand travels well overseas so further international rollout is expected and it's a great product which is low fat and can be flavoured in many different ways. And, importantly, Piper is the right home for Propercorn; it is a considered and Piper knows how to take a business at this stage and grow it."

The deal is expected to value Propercorn at a multiple of seven or eight times its projected 2016 EBITDA, predicted by city sources to be £15-25m.

Other premium brands have bagged multiples of upwards of 14x, including bagged snacks rival Tyrrells (this month), as well as Bear parent Urban Fresh Food, snack business Natural Balance and baby food brand Ella's Kitchen. However, a dealmaker source notes that whereas these deals involved trade buyers, "PE rarely overpays". he added.

Propercorn shareholders who supported the business in its infancy, including Kohn's mother, who provided £30,000 start-up cash, are also likely to see a sweet return.

With supermarket sales in the category passing £100m in 2015 [IRI], investment in the sector is coming thick and fast.
Rival popcorn brand Metcalfe's Skinny sold a 26% stake to the US owner of Kettle Chips in January. Market leader Butterkist is expected to come to market this autumn, while Tyrells, which sold last week to US group Amplify for £300m, also has a fast-growing popcorn range, with value sales up 35% to £8.58m [IRI].