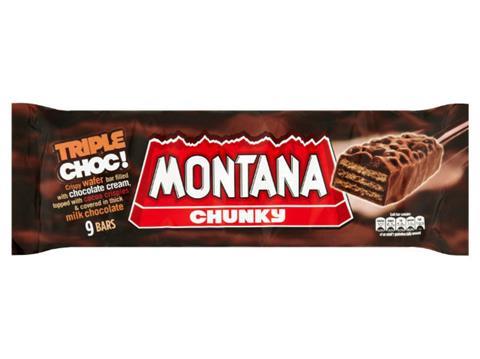 Brands manufactured by failed biscuit supplier Rivington Biscuits are being marketed for sale by an IP consulting firm.
Rivington, owned by Dutch group Van Delft, produced almost 30 different biscuit varieties for UK supermarkets, including Lidl, Aldi, Morrisons, Tesco and Iceland.
Brands included the Montana triple chocolate wafer, the Trophy milk chocolate wafer and Pink Panther Wafers.
Commercial intellectual property consulting firm Metis Partners has been engaged by administrators at FRP Advisory to find a buyer for the Rivington brand portfolio.
Lossmaking Rivington collapsed in December 2016 as rising costs caused by the devaluation of the pound pushed the struggling Wigan-headquartered business into administration.
Pink Panther Wafers, formerly made by Rivington, are set to return to supermarket shelves with a new taste, a revamped design and a new owner, after Middlesex distributor Asvina secured the UK & Ireland grocery licence for the character from MGM, as reported earlier this month.
Nat Baldwin, of Metis Partners, who is co-ordinating the marketing drive, said: "Rivington Biscuits' products were well-known in the market and were sold through a number of national retail chains.
"The company catered for a variety of markets and was well-positioned in the growing 'free-from' sector with products such as its no wheat gluten-free chocolate and orange wafer."
The IP assets for sale include the goodwill in the Rivington Biscuits brand portfolio and a registered trademark portfolio.