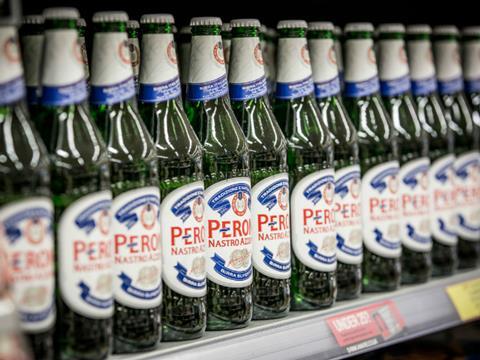 SABMiller (SAB) and AB InBev (ABI) have agreed terms for the fmcg sector's largest ever takeover after AB InBev raised its offer for the London-listed SAB to £44 per share.
The agreement comes after SABMiller had rejected up to five previous bids from AB InBev, the most recent being an offer worth £43.50 a share made yesterday.
The £44 per share offer values the deal at £71bn, but a partial share alternative structure for 41% of SAB – worth £39.03 a share – brings the deal value back to around £68bn.
The partial share alternative is designed to lessen the tax liabilities of SAB's two biggest shareholders – US cigarette giant Altria and BevCo, the investment organisation owned by Colombia's Santo Domingo brewing family.
The all-cash offer represents a premium of approximately 50% to SABMiller's closing share price of £29.34 on 14 September 2015 – the last business day prior to renewed speculation of an imminent bid.
The agreement was reached before tomorrow's 5pm 'put up or shut up' bid deadline - SABMiller has now asked the UK takeover panel for an extension to that deadline to 28 October to hammer out the final details of the agreement.
The merger will create by far the biggest global brewer – with a combined share of a third of the world's beer market and around four times the size of its nearest competitor. It will bring together some of the globe's biggest premium lager brands, adding SABMiller's Peroni, Pilsner Urquell and Grolsch to AB InBev's stable of Stella, Budweiser, Corona and Beck's.
The deal will now have to overcome significant regulatory hurdles, including the likely shedding of businesses in the US and China.
The deal is not expected to raise any regulatory red flags in the UK, where the combined company will claim 20% of the total beer market (15% for AB InBev, 5% for SABMiller) according to Nielsen figures. The new company will have 17% of the on trade market and 32% of the off trade as AB InBev currently boasts 28% of the UK off trade market.
AB InBev has agreed to pay a break fee of US$3bn to SABMiller in the event that the transaction fails to close as a result of the failure to obtain regulatory clearances or the approval of AB InBev shareholders.
The agreement comes after a public fallout between the two companies last week, with SABMiller accusing AB InBev's public £42.15 approach as "seriously undervaluing" the company. A "surprised" AB InBev hit back, claiming SAB's protests "lack credibility" and its board has "refused to meaningfully engage".
SABMiller's shares rose 9% in early trading today to 3,946.5p.