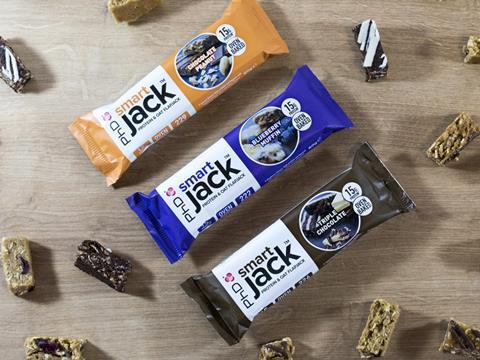 Top story
Listed sports nutrition supplier Science in Sport (SIS) is set to acquire protein brand PHD Nutrition in a £32m deal.
The acquisition will double the size of the UK health brand, which also sells direct-to-consumer, it said in a trading update on Wednesday.
The Grocer revealed in August that PHD Nutrition was one of a pair of sports nutrition brand set for an autumn auction by pharmacy group owners Walgreen Boots Alliance.
The pharmacy group purchased PHD via its short-lived B&B Investments venture capital arm in 2014, before purchasing The Protein Works a year later.
SiS confirmed the deal would be funded by £28.5m in cash, as well as a £3.5m in shares.
It announced it planned to raise around £29.0m by issuing new shares in the company at 60p each, representing a 14.3% discount to their closing price on Tuesday.
PHD has listings at the big four and Ocado, with recent sales boosted by the release of its Smart-branded range of high-protein, low-sugar bars, snacks and drinks last year.
For the year ended 31 August 2018, PhD generated revenue of £20.8 million and adjusted EBITDA of £2.8 million. This represents a sales jump of 13.6% over the past year, from £18.3m sales in 2017.
"The acquisition of PhD is highly complementary, doubles the size of our business and accelerates our ambition to become a global leader in premium performance nutrition," commented Stephen Moon, chief executive of SiS.
"It is a compelling combination that will deliver a wider product offering, including premium protein, provide broader consumer reach and greater international presence, and dovetails our respective strengths in retail and e-commerce channels.
"Operating in a rapidly developing market, we see this transaction as an important step towards winning on the global stage. With the clear synergies and growth prospects of the combined group we anticipate delivering strong returns."
Shares have plunged 11% to 62.2p this morning following the announcement.
Morning update
It has been a fairly quiet morning with little else of note so far today in the sector.
The market will be keen to see if the UK's Consumer Price Index (CPI) for the past month has continued to fall, when it is announced after 9am.
September's annual inflation rate eased back to 2.4%, down from 2.7% in the previous month, as price increases from food, transport and leisure activities slowed.
Analysts have suggested that many investors will want to see the CPI rate heading even closer to the Bank of England's target rate of 2%, easing the pressure on shoppers' wallets.
The FTSE 100 plunged in early trading, dropping 0.9% to 6,989pts, following weakness in the US yesterday.
Early risers this morning include Stobart Group (STOB), up 2.3% to 198.6p, Cranswick (CWK), up 1.8% to 2,894p, and Premier Foods (PFD), up 1.6% to 39.2p.
This morning's fallers include Ocado Group (OCDO), down 2.6% to 782.6p, Restaurant Group (RTN), down 2.4% to 221.2p and AG Barr (BAG), down 1.9% to 778p.
Yesterday in the city
Despite a day of rumours over Brexit plans, the FTSE 100 remained unaffected, staying flat at 7,053pts at the end of yesterday's trading.
Arguably yesterday's biggest story in the sector was the departure of Gavin Darby as CEO of Premier Foods (PFD), announcing plans to lead the supplier in January, months after withstanding intense shareholder pressure.
The announcement came as Premier also revealed it has had discussions over the potential sale of third biggest brand Ambrosia. Despite a mixed initial response, the market reacted well, increasing 1.4% to 38.6p, as it also a 1.3% sales jump to £358m for the six months to September 2018.
Other risers included McColls (MCLS), up 4.4% to 135.7p, Fevertree Drinks (FEVR), up 3.7% to 2,900p, and Purecircle Limited (PURE), up 3.1% to 319.5p.
Elsewhere, B&M Bargains owner B&M European Value Retail (BME) plunged 7.6% to 374.4p, after its like-for-like sales growth of 0.9% fell behind estimates.
Tobacco giant BAT (BATS) continued to tumble following weekend reports over a US clampdown on menthol cigarettes. Its shares slumped 4.2% to 2,836p, following double figure decline on Monday.
Yesterday's other fallers included Real Good Food (RGD), down 8.1% to 6.2p, Restaurant Group (RTN), down 4.8% to 226.6p, and Majestic Wine (WINE), down 4.1% to 383p.