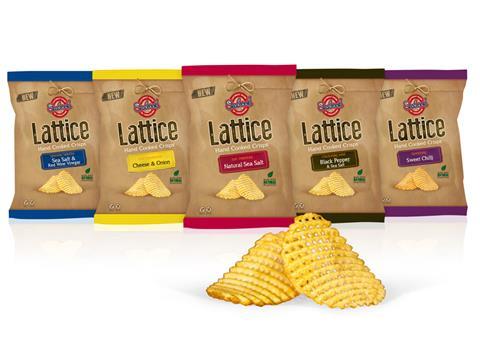 Seabrook Crisps has appointed corporate advisors to explore strategic options, including overseas acquisitions, as it strives to further boost international growth.
There is no formal sales process under way, but The Grocer understands the appointment of investment bank Houlihan Lokey is the first step towards an eventual exit for LDC, which backed a £35m MBO at the crisps brand in July 2015.
"The business has engaged advisors to explore a number of strategic options to support its international growth strategy," a spokesman for Seabrooks confirmed. "These include potential acquisitions."
Seabrook's focus over the coming months will be to continue the rapid expansion of its international division following a number of major export wins with multinational retailers across the world.
The business struck its first export deal last year to supply the premium Lattice crisps range to Gulf supermarket chain Lulu Hypermarket. International expansion accelerated throughout 2016, culminating in customer wins with convenience chain 7-11 in Hong Kong in October, Asda-owner Walmart in China and French supermarket group Carrefour in Spain.
Seabrook is now in 15 countries and also has contracts to supply French retail chain Monoprix, as well as other retailers in the Middle East.
Kevin Butterworth, marketing and international sales director and part of the MBO team, said the wins were not just one-off deals but repeat and growing orders.
"The key is generating sustainable long-term international business and not just 'collecting countries'," he added.
"This growth has come quicker than expected with positive feedback around appeal for a British heritage brand and our premium lattice crisps. Our international product has good appeal, with long shelf-life, gluten-free, vegetarian friendly and flavours relevant for non-UK markets."
Butterworth added he was confident that a new win in Australia would come to fruition this week. He has also just returned to the UK from the Middle East after Seabrook took a stand at Gulfood 2017, one of world's largest annual food and hospitality events, last week in Dubai. He said the event was "a resounding success", with strong leads in "lot of markets".
"Importantly, it will reinforce our position in the Middle East as key volume markets of Saudi and Kuwait will take orders in the next couple of months," Butterworth said. "It also provided good opportunities to drive more growth in China and enter some of the Asian markets."
Seabrook engaged boutique corporate finance firm McQueen to find a buyer ahead of the LDC deal, which was exclusively revealed by The Grocer before the acquisition was made public. McQueen was swallowed by US advisory firm Houlihan Lokey not long after completing the Seabrook MBO. The same team, led by managing director Shaun Browne, is now advising Seabrook and LDC on their options.
Seabrook CEO Jonathan Bye has transformed the formerly lossmaking brand in the past four years, with profits soaring 96% since the MBO.