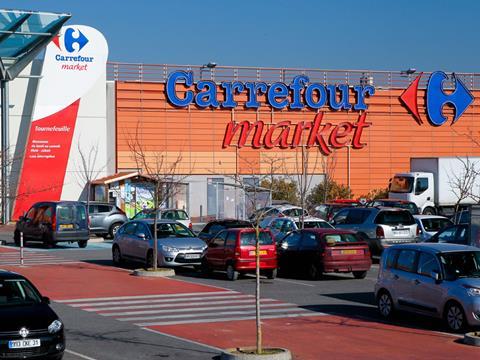 Top story
Tesco (TSCO) has announced plans to enter a long term "strategic alliance" with French hypermarket chain Carrefour (CA).
The alliance means the companies will work together on "relationships with global suppliers" and on the "joint purchasing of own brand products" as both look to reduce costs.
The deal is set to improve the buying power of both retailers, enabling them to reduce prices for customers in the competitive market.
This may raise concerns for many suppliers already worried by the pricing implications of the Sainsburys and Asda merger proposed in April.
Tesco and Carrefour's proposed alliance would "enable both companies to improve the quality and choice of products available to their customers" it said in a statement.
Each retailer will continue to work with suppliers on local and national levels, they said, but added that it will "strengthen" relationships with suppliers and create new opportunities for them.
The companies anticipate the partnership will be formally agreed in the next two months.
The partnership comes only months after Tesco completed its £3.7bn mega-merger with wholesaler Booker.
Tesco will be able to serve customers better by "improving choice, quality and value" as a result of the partnership, said Dave Lewis, Tesco Group chief executive.
"I'm delighted to be entering into a strategic alliance with Carrefour," he commented.
"By working together and making the most of our collective product expertise and sourcing capability, we will be able to serve our customers even better, further improving choice, quality and value."
Alexandre Bompard, Chairman and CEO of Carrefour Group, said: "This strategic alliance between Carrefour and Tesco is a major agreement as it combines the purchasing expertise of two world leaders, complementary in their geographies, with common strategies.
"This agreement is a great opportunity to develop our two brands at the service of our customers. This international alliance further strengthens Carrefour allowing it to reach a key milestone in the implementation of its strategy."
Morning update
The board at Premier Foods (PFD) has again hit back at a campaign by activist investor Oasis Management against re-election of CEO Gavin Darby.
In a message to shareholders, the company board at Mr Kipling maker reiterated its support for Darby and said it "rejects the various statements made by Darby".
"The Board has confidence in Gavin Darby and firmly believes that he and the Management Team are best placed to run the business and execute the Company's strategy," it said.
The Hong-Kong based hedge fund, which owns a 9.3% stake in the company, has appealed for shareholder support ahead of Premier's AGM later this month.
Last month, the investment group announced plans to oppose the CEO's re-election, with debate becoming more heated after the group issued a 14-page document titled "five years of failure under Gavin Darby".
Darby "successfully transformed" the company despite a Herculean task after taking over in 2013, Premier said in its shareholder note today.
The company which also manufactures British staples including Oxo, Ambrosia and Bisto, heralded its "strongest annual performance in five years" last month, after sales grew 3.6%, as it continued to reduce its large company debts.
The performance was supported by partnerships with Mondelez and Nissin Foods, the largest shareholder of the company, with a 20% stake.
This weekend, the chairmen of Premier's three main pension schemes wrote a joint letter to the company and the Pensions Regulator expressing "significant concern" over the campaign to oust Darby.
Keith Hamill, Premier Foods' chairman, said: "The Board believes that Gavin Darby is running the Company well. In contrast, the Oasis proposal offers no constructive solution to the challenges being addressed and involves the risk of creating instability at a time when continuity is important in completing the work being done.
"The Board unanimously recommends that shareholders vote in favour of Gavin Darby's re-election as CEO at the AGM on 18 July 2018."
Continuing international fears about Donald Trump's proposed trade tariffs have pulled the markets down, with the FTSE 100 slumping 1.2% to 7,545pts in early trading.
Early fallers this morning include delivery group Just Eat (JE.), down 1.4% to 768p, Britvic (BVIC), down 1.2% to 769.5p and Sainsbury's (SBRY), down 1% to 317.9p.
This morning's early risers include Nichols PLC (NICL), up 2.2% to 1,512p, Ocado Group (OCDO) up 1.4% to 1,042p and PayPoint (PAY) up 1.1% to 945p.
This week in the City
It is a quiet start to the week in the city, but the highlight of the week is the announcemnet of first quarter results for Sainsbury's (SBRY) on Wednesday.
Last week's Kantar retail report highlighted Sainsburys as the only one of the big four supermarkets to see negative growth over the last three months.
The state of affairs at the UK's second biggest supermarket will become much clearer when it reveals its Q1 trading report on Wednesday.
Ahead of its proposed merger with Asda it will be keen to show improved revenue growth and profits.
Wednesday will also see the release of the British Retail Constortium and Neilsen retail shop price index, highlighting the rate of inflation currently facing consumers.
Spirits group Distil will also hold its Annual General meeting on the Wednesday.
On Thursday, Associated British Foods (ABF) will be posting its third quarter figures, when it will hope to show improvements in its sugar division, where profits dived on the back of cost increases when it revealed its first half figures.