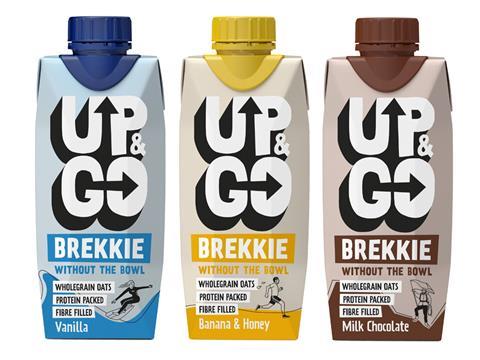 The UK arm of Life Health Foods, owner of Up&Go and Nutri-Brex, has cast its gaze beyond breakfast as it seeks to become a Europe-wide supplier across numerous health and wellbeing categories.
The company's broadening of ambition was announced this week, with a management shakeup seeing chief executive James McMaster replaced by Chris Laidlaw from spirits giant Diageo. McMaster had done a "brilliant job", Laidlaw said, but a "fresh start naturally leads to a change in personnel".
The former Smirnoff executive will lead a "house of brands approach" for LHF, building a wellbeing portfolio through acquisition of small and medium-sized fmcg names. While the first addition will be London breakfast drink Nosh, for an undisclosed amount, LHF was "going really wide" in its search, Laidlaw said – although he ruled out confectionery and sugary drinks. Financing the new strategy would not be an issue, he added. "There's definitely a pot of money."
The change at LHF comes with Up&Go in growth of around 30% following a UK rebrand earlier this year to address disappointing sales. The Australian breakfast drink would continue to be the "backbone" of the business along with gluten-free cereal brand Nutri-Brex, said Laidlaw, who spent around 18 months on the LHF board prior to stepping up to CEO.
Up&Go and Nutri-Brex are set for a mainland European presence as LHF looks to exporting. A Dutch launch is imminent for Up&Go, while Benelux and Scandinavia will be the next targets. Demand for on-the-go breakfast formats was continent-wide, said Laidlaw, also noting the gap in the European market for "tasty" gluten-free breakfast offers. "We've had a fair bit of interest."
LHF will continue to operate out of its central London offices in Farringdon, having retained its full workforce. It would "continue to leverage what we can" from its Antipodean parent – "the Kellogg's of Australia" – but would be "small, nimble and fast here".