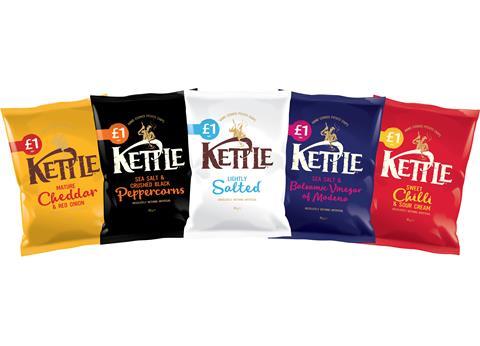 Irish food company Valeo Foods Group has entered exclusive talks to acquire premium crisps maker Kettle Foods' operations in the UK and Ireland.
City sources have confirmed to The Grocer that the businesses are close to striking a deal, expected to be worth over £50m.
The Metcalfe's and Kettle Crisps owner's assets in the US, or other markets, are not included in the transaction.
Kettle's US-owner Campbell Soup Co. appointed Barclays to lead the sale of the brand's UK and Irish business earlier this year after it plunged deep into the red, posting a pre-tax loss of £4.4m in the period from 1 January to 31 July 2018.
The premium crisp maker was bought by Campbell's in a wider $4.9bn (£3.7bn) deal from its previous owner Snyder's-Lance in December 2017. It was described by the US food giant as one of its six "power brands" in its 2018 annual report.
Despite not being "the most profitable business in the world" Kettle "fits the Valeo model pretty well" and was a "logical deal" for the CapVest-owned company as it looked to build a portfolio of domestic brands, one City source told The Grocer.
"It is a nice medium-sized business that fits into Valeo's portfolio, doesn't overly dominate it, but is not so small it would get swamped," the source explained.
The hand-cooked crisps sector has been struggling lately with brands – including kettle - having to resort to high levels of discounting to fight declining market share.
However, buying businesses requiring "some kind of turnaround" represents the "perfect scenario" for Valeo, a further industry source commented.
"That is exactly what they look for in almost all of their deals. They are very operationally-heavy and happy to get their hands dirty.
"When you combine something that is not going to fetch a super high price, because it is a trophy asset, with something that needs a bit of work in a brand like Kettle, which is still a fabulous brand even though it has been performing poorly recently, that is perfect for Valeo."
Valeo, whose brands include Rowse Honey and Jacob's Irish division, has been leading a string of acquisitions in the fmcg sector since its foundation in 2010, including the takeover of confectionery businesses Big Bear and Tangerine in 2017 and 2018.
Just last week, Tangerine invested £7.5m in its York factory to formally integrate Big Bear within its production line, months after the two businesses were consolidated by Valeo to boost the "efficiency" of its operations.
Adding a savoury snacking business to its ambient food proposition "makes sense from a category point of view" as Valeo looks to build up its UK presence, a further industry source commented.
If the deal is completed, it is unclear where Kettle would sit within the Irish business' four principal divisions – Ireland, the UK, Europe and confectionery – with City observers speculating it could form the basis of a new snacking unit.
The deal would be the latest in a swirl of M&A activity in the crisp segment since last year, following the sales of crisp makers Tyrrells and Pipers to Intersnack and PepsiCo respectively.
Kettle was contacted for comment but refused to disclose information regarding "speculative news". Valeo and Campbell's also refused to comment.