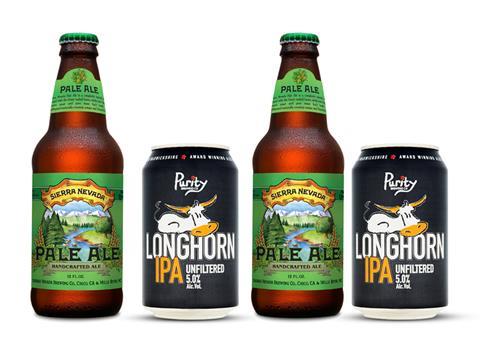 Morrisons has taken an axe to mainstream lager and fruit cider brands to make room for craft and premium lines as part of a major revamp of its booze offer.
The supermarket listed 49 new beer, cider and ale SKUs this week, having introduced a further 15 over the past four months, exclusive research by The Grocer has revealed.
Beers from brands such as BrewDog, Guinness Hop House, Sierra Nevada, Heineken-owned Lagunitas and Butcombe gained shelf space, alongside low and non-alcoholic launches from AB InBev and Heineken [Brand View w/e 15 May 2017].
The supermarket also doubled its range of mini kegs, including several products exclusive to it, including Black Sheep Best Bitter, which has so far only been available in the on-trade.
New additions to its cider range include Maeloc Dry Cider 330ml, Westons Rosie's Pig Damson Cider 330ml and Thatchers Stan's Barrel Roller Crafted Cider Can 330ml.
Forty-two SKUs appear to have been cut to make room for the new listings, including multipacks from Carlsberg, Desperados, Amstel, Foster's, Sol and Tiger, and bottles from Charles Wells and Shepherd Neame [Brand View].
AB InBev-owned Stella Artois Cidre was the biggest victim of the revamp, disappearing from Morrisons shelves altogether after five SKUs were removed. Kopparberg also lost several multipack listings for its 330ml fruit ciders, but gained listings for its 750ml bottles of premium rose cider and four-packs of 330ml Strawberry & Lime.
Confirming the range overhaul, Morrisons ales buying manager James Child said: "Craft beer is exploding and customers are telling us they want to see more of what they drink in bars on our shelves.
"We've given more space to the range and increased the number of lines by 28%, with beers such as Camden Hells Pale Ale and New World IPA from Leeds-based Northern Monk."
The supermarket has also revamped its range of spirits and liqueurs with the introduction of 17 new SKUs from brands such as Green Mark, Johnnie Walker, Jura, Ketel One and Russian Standard [Brand View].
The move makes Morrisons the latest supermarket to overhaul its BWS offer in favour of craft and premium booze, with Tesco dropping 31 Heineken SKUs to make room for craft brews back in February, and Asda announcing plans to become "the biggest craft beer retailer in the UK" last week, adding more than 100 new SKUs to its shelves.
Waitrose also ramped up its craft and speciality beer offer with the addition of 25 new SKUs last month, having reported a 33% lift in sales of speciality brews over the past year.