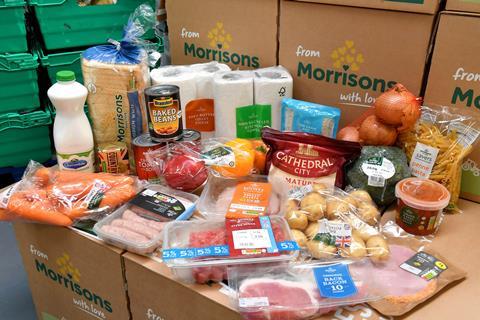 Morrisons is launching a wholesale food box service to provide essential groceries to businesses, charities, local councils, universities and schools who need food in bulk as the UK enters the next stage of lockdown.
The supermarket, which has launched a raft of food box varieties since the crisis began in March, said the latest was a response to organisations needing specific food, personal hygiene and cleaning products fast during the Covid-19 pandemic.
It said it had been approached by a raft of public sector and charity organisations who needed to source groceries quickly, including a university requesting boxes of personal hygiene products for students, a charity that needed 3,000 boxes of long-life food for homeless people and another charity that wanted boxes with kids' activities such as colouring books.
Morrisons launched a wholesale spin-off service in May, which it said would aim to help not-for-profit organisations who are in need of food supplies during the crisis.
Aidan Buckley, director of food to order for Morrisons, said the new box service would also help organisations such as local authorities tackle spikes in demand for bulk groceries.
"At this very difficult time for the nation, we want to make good food affordable for everyone and that includes charities, universities and councils who need to access specific groceries," he said.
"We have a wide range of good-quality, great-value food and drink and we can pack what they need as part of our food box service."
Carole Rake, head of client services at Norfolk County Council, said: "Morrisons responded quickly when we needed help buying food and essential items for vulnerable people who cannot leave their homes."