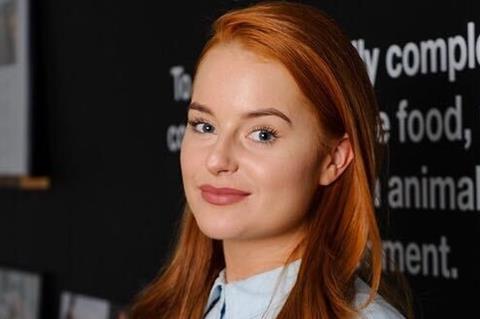 Name: Emma Clark
Age: 25
Job title: Lead NPD executive
Company & location: Huel, Tring, Hertfordshire
Education: Teesside University, Food Science & Nutrition
Why did you decide to go for a career in food? Before university I had my mind fully focused on being a dietician as I have always had a passion for nutrition. However, as soon as I started university I wanted to begin exploring all the different career opportunities in food science. My first job out of university was as an R&D technologist at Quorn, and as I started learning more about the food industry, I became hooked and fell in love.
Explain your job to us in a sentence (or two): As well as developing the products, I primarily project manage EPD and NPD product launches at Huel. I work cross functionally within the business as well as with manufacturing sites/ suppliers – for instance, orchestrating a manufacturing move and launching a new range of products. This involves major teamwork with Huel logistics, operations, procurement and technical teams. It is absolutely key to always be on the ball and have an eagle eye. Being able to do these things at Huel is such great exposure to the wider food industry and I am always super excited to get my teeth into the next project.
What does a typical day look like for you? I have had the fantastic opportunity to step outside what you would define as a typical NPD role and a typical day is crazy, ranging from working with the operations team to setting up a new manufacturing site to working on product category strategies that are paramount to the growth of Huel. On other days I could be designing new products in the kitchen, setting up sensory sessions in multiple countries, product costings or conducting first productions. Every day is different.
"It is absolutely key to always be on the ball and have an eagle eye"
Tell us about how you went about applying for your job. For Huel, I didn't actually apply, the talent team contacted me on LinkedIn and asked if I would be interested. So, I sent over my CV and I had an initial telephone interview with the talent senior manager and they arranged for me to have a second interview with the co- founder and head of nutrition, James Collier, over Zoom. He asked me some pretty tough nutrition questions and what my thoughts were on some of Huel's hot topics, such as "why is Huel not a meal replacement?" I then came to HQ for almost a full interview day with the founder, CEO, operations director and a culture fit interview with the NPD team. It was quite an intense (but enjoyable) day and worth it. Being a fast growing business, Huel like to make decisions and move very quickly so I was offered the role as a senior NPD executive on the day.
What's the best part about working for a food company? Seeing the product you developed on the shelves or online gives you the biggest thrill. For instance, Huel Black Edition was my biggest project since working at the company. The new Huel powder was developed based on customer feedback asking for Huel powder with reduced carbs so it was important to get it right.
And what's the biggest misconception people have about working in food & drink? From personal experience, university courses don't give you practical experience or an in depth view of what it is actually like working in the food industry. You may do a module in NPD/ food engineering but, it is basic and not very representative of all of the moving parts involved in FMCG. Due to this, people only associate NPD with working in the food industry when in fact, there are hundreds of different roles. People who aren't necessarily interested in NPD disregard working in the food industry because of lack of education around what it involves.
What advice would you give to other young people looking to get into the food & drink industry? As soon as you start university begin looking for a placement or an opportunity to work in the food industry. Even if it's not necessarily in the role you think you might like, it is super competitive and you need to give yourself the best chance. For example look for a part time role working on the manufacturing floor if you aspire to work in NPD – experience is everything. It will also give you a first hand look at what it's all about and you can decide if it's actually what you want to do. It's an exciting industry but be prepared for a whirlwind and to be thrown in the deep end.
What's your ultimate career dream? I love NPD but I want to go all the way to the top and one day be a CEO of an fmcg business.