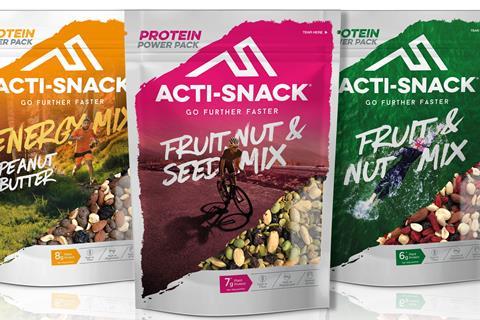 Northern Irish sports nutrition brand Acti-Snack has launched a seven-strong lineup of trail mix, designed to "fuel the body and promote recovery".
Rolling out now, it comes in three main variants in a selection of pack sizes (rsp: £1.50/40g to £4/200g), with 100g providing between 17.5g and 25g of protein.
Energy – available in Salted Dark Chocolate and Peanut Butter – was intended to give consumer "a much-needed boost before and during adventures" said Acti-Snack.
Natural's three mixes – Five Nut; Fruit, Nut & Seed and Fruit & Nut – were "perfect for those who want to savour the ingredients, and the low-sugar Keto was "the first accredited Keto snack in the UK and Ireland", available in Salt & Apple Cider Vinegar and Buffalo BBQ.
Acti-Snack developed the range by collaborating with "athletes from a variety of disciplines, as well as consulting certified performance nutritionists to understand what athletes need to energise and re-energise their bodies" said the brand's marketing director Bronagh Clarke.
The new snacks were "designed with protein front and centre to help build muscle mass" she added. "We've also considered broader micro and macro nutrients that are needed for performance such as potassium, magnesium and iron to fight muscle fatigue."