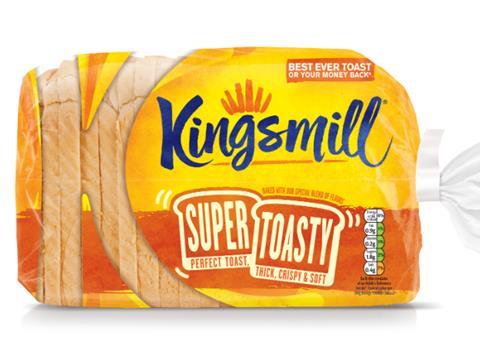 Allied Bakeries hopes to reignite Brits' passion for wrapped bread through a multimillion-pound investment in a bundle of NPD and brand overhauls - including a loaf especially for toasting and a new look for Kingsmill.
Available from 4 January, and following the October introduction of Toasties, the Super Toasty loaf is a category first, according to Allied. It is created with a proprietary blend of flours - including semolina - that allow the bread to crisp on the outside while retaining its body and becoming 'pillowy' in the middle. The slices are about 25% thicker than those of a typical thick white loaf - which weighs 750g but is the size of an 800g product due to the extra air in the bread (rsp: £1.25).
"Super Toasty will play a big role in reminding people that toasting is the ultimate simple pleasure and is at the heart of the breakfast occasion," said Allied's category director, Zoe Taphouse.
The NPD will be joined on shelf by two more new white loaves. White Fibre (rsp: £1.25/750g) will tap healthier eating by offering about 8g of fibre per medium slice. It has 'all the fibre of wholemeal' and will replace Kingsmill's similarly positioned Great White, which was "too difficult a wrapper" for shoppers to understand, according to Janene Warsap, Allied marketing director.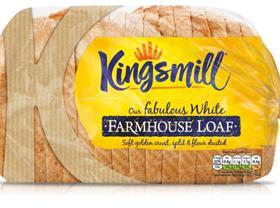 The third and final new offering in the new year will be Farmhouse Loaf (rsp: £1.39/800g), a premium offering with a handmade look, with the bag design to create a larger window area.
In spite of price deflation, Kingsmill has seen a slowdown in its sales decline over recent months and is now worth £244.5m, having lost £10.9m (or 4.3%) in value [Nielsen 52 w/e 10 September 2016]. It hopes to further stymie the slump with the rollout out of a redesigned Kingsmill portfolio with predominantly yellow colouring, K-shaped window, handwriting-style typeface, and messaging to remind shoppers the product is baked rather than 'processed'. The 'sunnier' look will be backed by a £10m campaign in 2017 as part of Allied's plan to reform consumers' 'emotional connection' with bread and give it greater standout on shelf.

"We wanted to tap what made the category successful in the past," said Taphouse, adding that wrapped bread was currently "one of the most unloved categories in store" as supermarkets took a 'pile it high and sell it cheap' approach in their ongoing price war. The sector is currently valued at £1,336.6m in sales, down 6.8% [Nielsen].

Allied's higher-end Allinson brand is also set for a design overhaul in the new year to "live up to its proposition" as a bridge between wrapped bread and in-store bakery, said Warsap. The range will be expanded with the addition of Rustic White, Signature Seed and Seeds & Grains variants, while the loaf size has been reduced to 650g to 800g to better suit smaller households and reduced food waste.

Finally, Burgen will be relaunched in May with a fresh appearance and added variants.