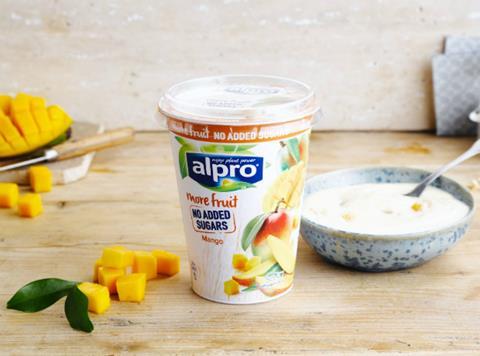 Alpro has added a new More Fruit, No Added Sugars variant to its big pot range of yoghurt alternatives.

The soya-based yoghurt alternative contains only sugar that occurs naturally from the mango chunks flavouring it, totalling 5.6g of sugar per 400g pot (rsp: £1.70). It is due to go on sale in 450 Tesco stores on 30 October, with Alpro setting its sights on wider retail distribution in 2018.

The launch follows the introduction of a No Added Sugars big pot in Sainsbury's last month, which Alpro hailed as a "significant development" for plant-based food and drink, and builds on a near 30% rise in Alpro's yoghurt alternative sales as one in three households turns to plant-based dairy alternatives.

"We know that choice and variety are key for today's 'balance-seeking' shopper and sugars remain high on the agenda from a health point of view," said Vicky Upton, head of marketing at Alpro UK and Ireland.

"That's why we're continuing to innovate and bring exciting products like this fruity Big Pot to market, which not only maximise the potential of plant-based, but also broaden our alternative-to-yogurt portfolio to suit a wide range of different tastes, flavour preferences and usage occasions."

Alpro said it had reduced sugar by an average of 12% across its range between 2007-17. It has pledged to cut a further 12.5% by 2020.