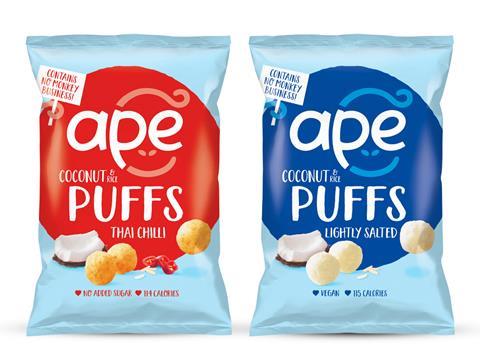 Coconut snack brand Ape is to launch a bagged range of puffs as part of its plan to offer healthier products "in all sorts of snacking".
Ape Coconut & Rice Puffs – made with organic Thai coconuts – would offer a healthy option at an accessible price, said Ape founder and CEO Zack Nathan, who described the new lineup as a "world first".
Lightly Salted and Thai Chilli will roll out on 1 March in 25g and 80g packs with respective rsps of 80p and £1.59, making them cheaper than other healthier puffed snacks such as Hippeas (rsp: 99p/22g).
Ape's aim was to give cash-poor and time-poor shoppers greater access to healthy snacks, Nathan said.
Targeted at millennial shoppers, the new puffs contain no additives or added cane sugar, with a maximum of 2.4g of sugar per 100g and 460kcals. The Thai chilli flavour is sweetened with apple powder – another first, according to Nathan.
More variants, both savoury and sweet, are likely to follow later this year, along with other formats. Ape, founded in 2014, also intends to branch out into other categories and core ingredients. "We're not a coconut brand," said Nathan. "We're a healthy eating brand."