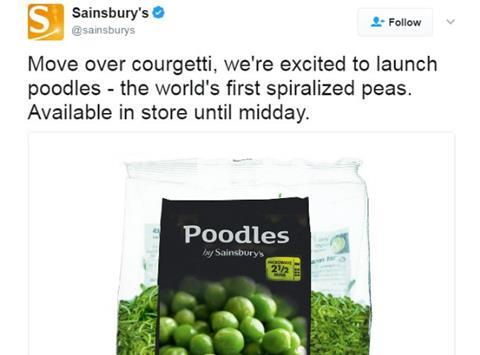 A&E departments were on high alert on Saturday morning in anticipation of Brits splitting their sides and laughing their heads off. Happily, no April Fools-related fatalities have been reported – which is smashing news for the many food and drink businesses that joined in with Saturday's comical shenanigans.
Of course, a howler of a gag is fantastically unlikely to cause anyone physical harm. But a stinker can have real and horrible repercussions – as Turkish confectionery giant Ulker Biskuvi (Yildiz-owned sister business to the UK's Pladis) discovered over the weekend.
Many TV viewers thought its comical commercial was a call for another military coup attempt, ending as it did with the payoff "now is the day of reckoning". The company saw its share price fall this morning, after protesters burned its products and the Istanbul Prosecutor's Office launched an investigation into the animated ad.
No such fate befell Sainsbury's for its elegant contribution to the 1 April fun. 'Poodles' was fresh pea noodles, a new own-label product threatening the dominance of courgetti, but – darn it – only "available in store until midday". Nevertheless, the joke, if not the concept of spiralised peas, was a winner (and pleasingly self-aware given Sainsbury's enthusiasm for launching veg-based carb alternatives).
Runners-up were legion. Among retailers, Aldi unveiled scratch 'n' sniff labels in partnership with Red Tractor, Iceland added frozen flowers to its range, and Amazon introduced Petlexa, a pet-friendly version of its Alexa personal assistant.
Then there was Robinson's cordial NPD. Kale, Beetroot & Butternut Squash squash promised "real veg in every drop" – the prospect of which was marginally less revolting than Whopper Toothpaste from Burger King and Delicious magazine's 'Friends trifle' recipe with fruit, custard, cream and beef.
For those of you yet to rofl, how about MyProtein's attempt to corner the functional petfood market with PuppyProtein? Or Sknickers, the underpants from Snickers? Or Saucy Fish launching a "new wave" (geddit?) of seafood-based beauty products? That was a good one – unlike Domino's laboured Heatwave Letterbox for pizza-lovers too lazy to answer the door to the deliverer.
Most contrived was the comedy styling of Fresh Marketing, maker of the protein-rich Fuel10k and I Am Super brands. Co-owner Barney Mauleverer wrote to Kellogg's CEO John Bryant, proposing they make a joint bid to "buy Weetabix Ltd back off the Chinese". Weetabix chief Giles Turrell also received a letter – attached to which was an old fiver, to mark "our commitment to our ambition".
So, not the strongest punchline from Barney but, as American comedians are often heard to say begrudgingly, you have to admire his commitment to the bit.