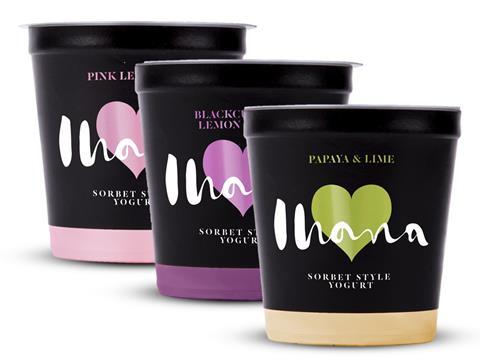 Arla has launched its trendy Finnish brand of Ihana 'sorbet-style' yoghurts into the UK.

The Ihana brand, meaning 'wonderful' in Finnish, went on sale in Asda earlier this week in pink lemonade, papaya & lime and blackcurrant, lemon & mint flavours (rsp: 80p/150g).

The lactose-free range launched in Finland in 2016 as part of an NPD drive, tapping the growing market for indulgent yoghurts and demand for innovative flavours.

"Being able to roll out successful brands into new markets and share innovation with other countries is a key focus for Arla as part of its ongoing strategy and growth," said Arla brand and category manager Betina Karvinen.
Its UK launch follows the brand's roll out in Denmark earlier this year in line with the dairy giant's Good Growth strategy, which names expansion in the yoghurt markets as a key aim.
"The role of the Ihana brand is to offer something new and different to the existing options within the luxury yoghurts market, primarily driven by the "sorbet style" inspired flavours such as pink lemonade," said brand manager for Arla yoghurts UK James Quayle.
"Arla's ambition is to role the range out across the UK retail market over the course of 2018-2019 and a view to expanding the number of variants in line with the other market offerings once the brand is established."
In addition to the three flavours are currently available in the UK, Ihana also has strawberry & lime and lemon pie variants as well as liquorice & lemon, mango & chilli and passionfruit Greek-style yoghurts in the Finnish market.