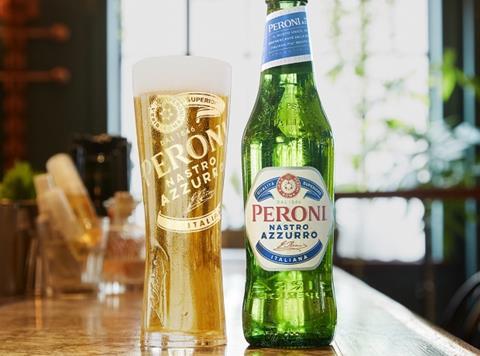 Asahi UK is poised to launch a non-alcoholic version of Italian brew Peroni, The Grocer has learned.
It will launch Peroni Libera, a 0.0% version of its posh Peroni lager in March 2019 - the first non-alcoholic beer for Asahi UK.
An Asahi UK spokeswoman told The Grocer the beer would have "the Italian style and authenticity the brand is renowned for".
Asahi UK also applied to register the name 'Super "Dry" Asahi', along with a new logo, with the Intellectual Property Office this week, under class 32, which covers non-alcoholic beers.
However, the spokeswoman stressed this was "purely housekeeping for now". Non-alcoholic Asahi Super Dry is already available in Japan.
Peroni has already enjoyed significant success by catering to alternative diets and health requirements. Its gluten-free variant, which launched in 2017, was Britain's bestselling gluten-free brew as of The Grocer's Britain's Biggest Alcohol Brands report earlier this year, having racked up supermarket value sales of £3.9m [Nielsen 52 w/e 21 April 2018].
The Peroni masterbrand was given its first makeover since 2005 this summer, with Asahi rolling out new engraved bottles and a slight reimagining of the brand's logo. Sales at total brand level grew by £12.6m (10.4%) to £134.5m over the past year [Nielsen].