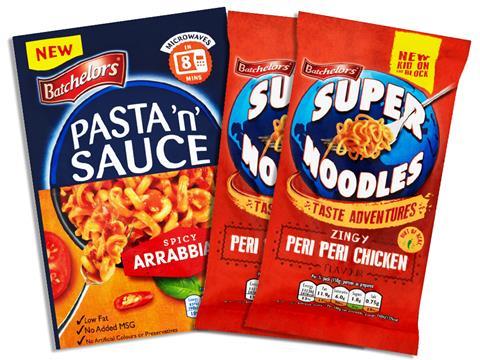 Premier Foods is hoping to woo younger consumers by bringing 'modern flavours' to its Batchelors Pasta 'n' Sauce and Super Noodles ranges.
Four Italian-inspired flavours have been added to the Pasta 'n' Sauce portfolio - Classic Pesto, Smoky Cheese & Pancetta, Spicy Arrabbiata and Mediterranean (rsp: 99p). Each recipe, which Premier said represented the nation's favourite pasta dishes, takes eight minutes to cook.
Super Noodles has been expanded with a Taste Adventures quartet comprising Sizzling Steak Fajita, Thai Green Curry, Peri Peri Chicken and Fiery Vindaloo (rsp: 81p).
The NPD would ignite sales in the quick meals and snacks category by bringing modern flavours to the market that would appeal to the "younger millennial consumers", said brand director for quick meals & snacks Helen Taylor. "Internationally inspired flavours resonate with these shoppers and we're constantly reviewing our ranges to bring innovative products to market to drive growth."
Both ranges are being rolled out across grocery, convenience, wholesale and impulse channels now.
Premier this month reported an increase in its quarterly branded sales for the first time in two years. Branded sales rose 0.1% in the six months to 3 October thanks to a 1.6% rise in the second quarter. Branded sales fell 4.3% in the second quarter a year ago, with that decline slowing in the third, fourth and first quarters since, finally returning to growth in the past three months.
CEO Gavin Darby said the performance was a reflection of "the clear benefits from our continued commitment to brand investment and innovation".