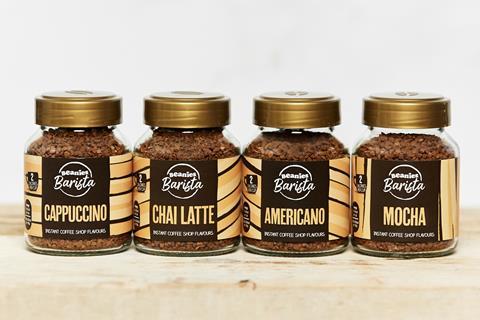 Beanies is looking to give shoppers the coffee shop experience at home with its new Barista range of instant coffee.
The range comprises Americano, Mocha, Chai Latte and Cappuccino.
It had been developed from initial concept to final production in just three weeks, Beanies said. The process began following the announcement of the UK lockdown, with consumers unable to visit coffee shops.
Beanies said coffee shop options were an opportunity to bring "joyful normality" into people's routines.
The brand's sales & marketing director, Mark Stangroom, said its shoppers were "always looking for new products". The Barista range, which launched online this week (rsp: £2.50/50ml), "gives them the option to enjoy at home the coffee shop favourites they can't get right now".
Online orders for Beanies had "increased dramatically" in the past few weeks, Stangroom added. The brand saw this as an "ideal way to launch NPD" and get immediate feedback from its social media channels.
Like its existing range, Beanies' new lineup contains two calories per 2g serving and is sugar-free.