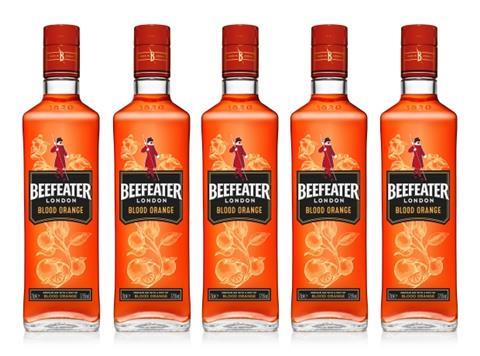 Pernod Ricard has fired a shot across the bow of Halewood Wines & Spirits and Diageo with a new Blood Orange variant for Beefeater.
Beefeater Blood Orange (37.5% abv) rolls out from March 2019, with Pernod looking to provide the popular flavour at a more accessible price point than its posher peers (rsp: £18.99).
There was a "significant opportunity" for orange gin in the UK, said Pernod Ricard commercial director Chris Ellis, adding it had "swiftly become the second-fastest growing gin flavour, after pink".
However "the majority of orange gins currently on the market are only available at a super-premium price", he said.
Indeed, Diageo's Tanqueray Sevilla Gin and Whitley Neill's Blood Orange both come in above the £20 mark per 70cl bottle - though both are higher in strength than Beefeater (41.3% and 43% abv respectively).
Beefeater master distiller Desmond Payne said the gin would be best served in a 'Blood Orange B&T' cocktail with tonic or ginger ale, or served in a goblet over ice with a slice of the fruit itself.
It comes almost exactly one year after Beefeater debuted Beefeater Pink, which it rolled out last February as a premium competitor for Gordon's bestselling pink gin.
The orange gin trend was "growing faster in its infancy that its pink equivalent did", said Ellis.