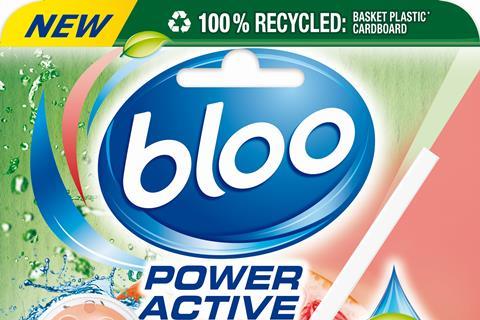 Household brand Bloo has launched its first toilet cleaning rim block made with a 100% recycled plastic basket.
Its new ProNature rim blocks are available in two "premium" fragrances – Grapefruit and Mint Eucalyptus – which Bloo said were "inspired by nature". They are billed as lasting for up to 240 flushes, tackle odours and protect against limescale for "a dirt-free toilet bowl".
They rolled into Morrisons this week (rsp: £2.50 each).
It forms part of a wider push for "a more sustainable future" from the brand: parent company Henkel plans to make all its packaging reusable, recyclable or compostable by 2030.
To mark World Toilet Day today (19 November) Bloo also published findings from its Toilet of the Future 2050 report, which claimed that the future toilet would act as an ecosystem to recycle for less waste and to power the home, as well as offering a health MOT to boost health, wellness and life longevity in humans.
It also reported that toilets in 2050 would have voice recognition, self-cleaning capabilities and offer health check-ups including urine and stool analysis. Toilet leftovers would be used to power the toilet itself, it added.