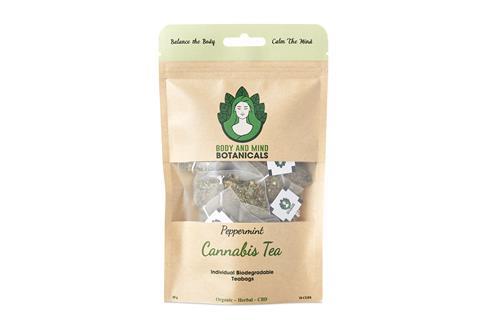 Body and Mind Botanicals has launched a range of full-spectrum cannabis teas.
They are: Organic Cannabis Tea (rsp: £10.99/10x15g), Organic Loose-Leaf Cannabis Tea (rsp: £7.99/150g) and Organic Cannabis & Peppermint Tea (rsp: £11.99/10x20g).
Body & Mind Botanicals claimed the teas were a "UK first" as they used the whole cannabis plant in production. This means, unlike many CBD products on the market, they aren't classified as a novel food and therefore subject to regulation.
Each cup of the tea is billed as delivering 25-40g of CBD, with the cannabis plants used in its production grown on multi-generation, certified organic farms in the Baltic region of Europe.
"We are passionate advocates of the incredible, intrinsic health and wellbeing benefits of the cannabis plant," said the brand's co-founder Michael Fitzgerald.
"As such, we are bringing to market accessible, high quality and 100% certified organic, cannabis-derived remedies and solutions, including our first range of Organic Cannabis Tea, which will enable UK consumers to experience these for themselves."
The three-strong range of teas has launched into Grape Tree, Partridges of London and Daylesford Organics.

Demystifying Hemp & Cannabidiol
The CBD Global Summit is a brand new two-day conference that brings together cutting edge science, regulatory know-how and consumer insight that businesses need in order to explore the CBD opportunity
A conference brought to you by The Grocer, FoodNavigator, NutraIngredients and CosmeticsDesign