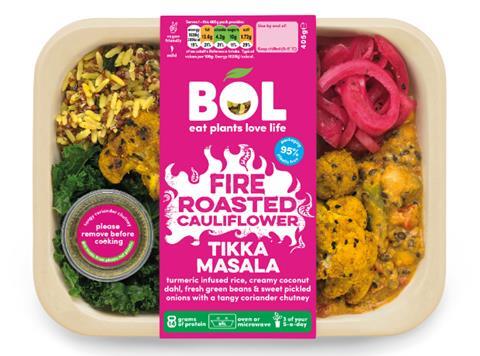 Premium ready meals brand Bol Foods has moved beyond its plastic pot format for the first time, launching a range of plant-based dinners in a sustainable box made from bio-plastic.
A quartet of chilled main meals, unveiled this week, comes in a 100% recyclable pack made from 95% sugarcane offcuts and 5% plastic.
The new lineup comprises Bang Bang Sweet Potato Katsu Curry, Fire Roasted Cauliflower Tikka Masala, Soulful Tomato & Lentil Ragu Linguine, and Ultimate Shepherd'less Lentil Pie (rsp: £4/400g to 415g). They provide up to three of the 5 a day, and between 10g and 15g of protein per portion (2.4g to 2.6g per 100g).
Landing now in Sainsbury's and Whole Foods Market, Bol's latest meals were designed to provide a "plant-powered dinner without the chopping or prepping" said the brand, which packs all its other products in recyclable plastic pots.
The NPD comes after Bol last month became the UK's first vegan grocery brand to join Deliveroo, offering chilled pot meals, soups and salads from an eight-strong selection.
The Deliveroo tie-up came at the end of an eventful 2018 for Bol. The brand – founded in 2015 by Paul Brown after more than 10 years at Innocent Drinks – went fully plant-based in the summer by dropping dairy, having axed meat and fish more than 12 months earlier.
Bol was also one of 14 fmcg startups and SMEs chosen for Tesco's 2018 incubator initiative, which aims to drive growth, innovation and strategy for smaller suppliers.