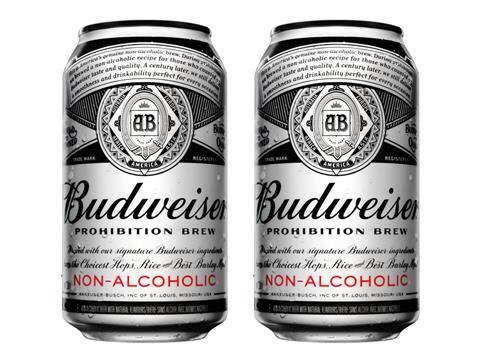 Budweiser Prohibition Brew, an alcohol-free beer from AB InBev, is poised to hit UK shores following its "pleasing reception" in Canada.

The brand, which was registered with the Intellectual Property Office earlier this month, is positioned as a premium, less sweet drink, intended to taste precisely like Budweiser but with an 0.0% abv.

AB InBev told The Grocer the brand was "being explored" in the UK alongside other opportunities within the low and no-alcohol space, but added it was "very early days".

The completely alcohol-free offering had been developed for adults who wanted to enjoy the "refreshing taste of a beer with the great character of Budweiser at any time and for any occasion", according to Nick Robinson, AB InBev UK & Ireland marketing director. "The team was really pleased" with the initial reception of Prohibition Brew, which was made using the latest "de-alcoholisation" technology, following its debut in Canada, he said.

It was launched in May by Labatt - which has brewed Budweiser in Canada since the 1980s - as part of a wider mission at AB InBev to offer an increased variety of ­beverages with less and no alcohol content.

Third-party research conducted since launch had revealed 70% of Canadians who tried the beer intended to ­purchase it again, Robinson added.

AB InBev will be hoping to tap growing thirst for lower and non-alcohol beer - a category that grew 19.5% to £28.4m in the past year [IRI 52 w/e 5 November 2016].