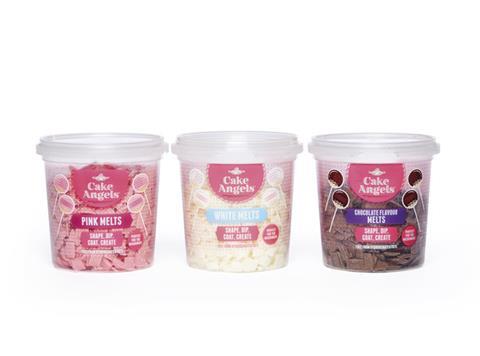 Home baking brand Cake Angels has launched what it claims are the first 'baking melts' available from UK grocery retailers.
The melts – pieces of microwavable candy that can be used as a coating, a dip or moulded into decorations - are available in three variants: chocolate, white and pink (rsp: £1.99/200g).
The trio, which is free from artificial colours, flavours and hydrogenated fats, would build on current growth of icing products and tap into the trend for coating food and baking items, said commercial controller Alexandra Balzaretti.
Baking melt products are already available from specialist stores, such as Lakeland, but Cake Angels' were the first to hit supermarket shelves, said supplier Fiddes Payne.
"We expect our melts to be a huge hit with all levels of bakers, giving them all the opportunity to showcase their own creative flair," added Balzaretti.