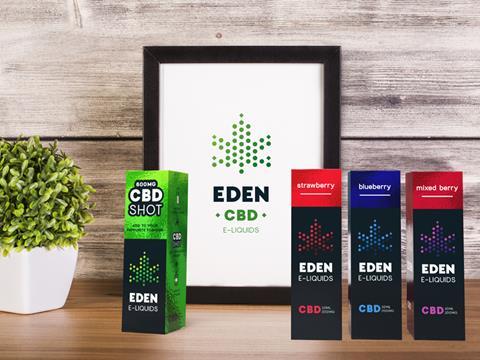 UK grocery's first cannabis-based vaping oil is set to be available in c-stores within weeks, as Lancashire e-liquid maker Liberty Flights prepares to launch a ­four-strong range.
The Eden-branded cannabidiol (CBD) oils will roll out to Blakemore Trade Partners from 15 June, according to Liberty Flights MD Matt Moden. He said he expected products to be on shelf as soon as late July, to satisfy a demand for CBD e-liquid that was "gaining momentum".
Vapers were increasingly switching from ­nicotine to CBD, he said. "I went to a vape expo in Birmingham and would conservatively guess that among all the exhibitors at least 35% were selling a CBD-based liquid."
Eden's four 10ml SKUs comprise Mixed Berry, Blueberry and Strawberry with 200mg of CBD (rsp: £19.99) and an unflavoured 600mg option (rsp: £39.99).
All are completely legal, containing no more than "a trace" of tetrahydrocannabinol (THC),­ ­the psychoactive in cannabis. While CBD products are permitted in the UK, they must be less than 0.2% THC.
Nevertheless, use of cannabidiol-based products had numerous benefits, Moden told The Grocer. "We can't make medical claims, but there's an overwhelming amount of evidence that it helps people with anxiety." It had also been shown to help sufferers of epilepsy and provide people with "a sense of wellbeing".
The launch by Liberty Flights of its Eden oils follows an upsurge in demand for cannabis and cannabis products in the US and Europe, Moden said. "In the US, cannabis is a $100bn market" – albeit not all of it legal.
At the start of 2018, sales of CBD tincture at Holland & Barrett leapt 37% over four weeks, with Cannabis Trades Association UK estimating there were 250,000 users of CBD oil across the UK, up from 125,000 the previous year.