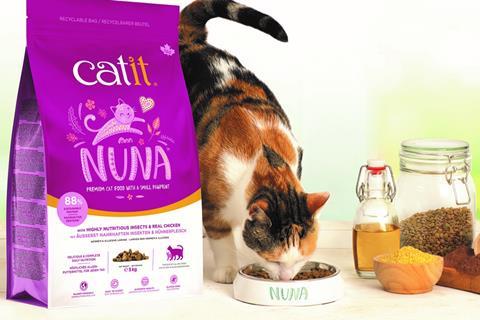 Cat product brand Catit has launched a new insect-based catfood.
The brand has launched a new range called Nuna, which is made from insect protein combined with small amounts of meat and fish. It has debuted a range of two kibbles – Real Chicken and Atlantic Herring (rsp: £26.99/2.27kg) – as well as an Insect Protein Treats SKU (rsp: £2.99/60g).
The kibbles were made with black soldier fly larvae, and were "easily digestible and extremely palatable", said the brand. The black soldier fly grubs used in the recipe were "bursting with protein, vitamins, and minerals such as omega-6, calcium, phosphorus and zinc", it added.
"Cats can't survive solely on a meatless diet, but traditional meat production generates more carbon emissions than all cars combined", said Catit marketing manager Paul Trott.
"With almost 500 million cats roaming the Earth, not to mention cat purchases increasing 20% since lockdown, brands and consumers can help make a real difference by substituting traditional meat protein in catfood with insect meat protein."
The launch will be backed by an "extensive, consumer-focused PR programme" as well as in-store support.
It comes just weeks after fmcg giant Mars unveiled Lovebug, a new catfood brand made entirely from insects, which it claimed was the first 100% insect-based catfood to be launched by a major supplier in the UK. Mars also uses black soldier fly larvae to make Lovebug.