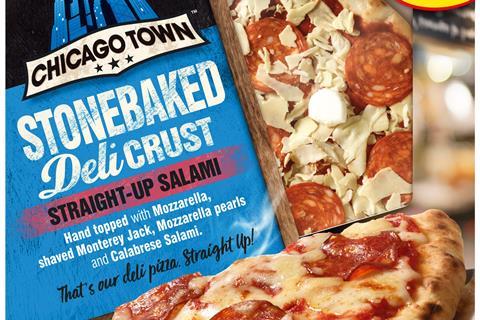 Chicago Town is set to take on the likes of Pizza Express and White Rabbit Pizza Co with the launch of its first-ever chilled pizzas.
Grocery's leading frozen pizza brand – worth £119m – will make its debut in chillers from 9 October with a three-strong Stonebaked Deli Crust range comprising Cheeeese-Fest, Straight-Up Salami and Chicago Hot (rsp: £5/424g-448g).
Chicago Town's American-style, 11-inch pizzas have a hand-stretched base. It is deeper than the base of a typical chilled pizza, which is Italian-inspired, to make it sturdy enough to handle thicker toppings. The Cheeeese-Fest variant, for example, features mozzarella, cheddar, emmental, monterey jack and mozzarella pearls.
The result of around a year's development, Stonebaked Deli Crust would join a £417m chilled pre-packed pizza category in which only one brand, Pizza Express, was worth more than £10m, Chicago Town said.
The new, "fully loaded" trio was "a credible and natural step", and was aimed at the 10.7 million chilled pre-packed pizza consumers who have never before shopped Chicago Town, the brand added. It would also encourage more impulse purchases.
The range's launch will backed by outdoor and online activity, as part of a £5m spend scheduled to kick off on 14 October.
It comes after Chicago Town unveiled a new look and feel in May across its portfolio, with packaging and logo redesigned "to bring the range together and encourage consumers to purchase across the range".