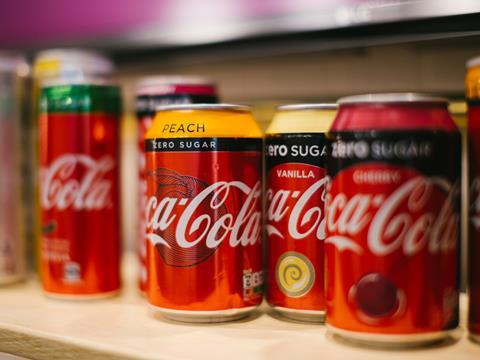 Clear Coke. Coke with added fibre. Canned Coke & Coffee. Cinnamon Coke Zero. There have never been so many weird and wonderful variations of Coca-Cola available across the globe. Which is odd, considering Coke has been so cautious over its most treasured asset.
That's not to say it hasn't innovated - whether that's Cherry Coke for flavour, or Coca-Cola Zero Sugar for health. But the adage of 'if it ain't broke, don't fix it' appears to have been thrown out. So what's going on with the world's biggest soft drinks brand? Why is it messing with ingredients like this? And will we see more of this NPD in the UK?
Coca-Cola definitely ain't broke. Sales are up 5% year on year, on volumes up 2.4% (against a backdrop of 3% growth for the global sparkling beverages sector).
The problem, says Coke's global CMO for sparkling, Javier Meza, is that other categories are growing faster, and it could be much harder - and costlier - to make headway in those categories further down the line. All the while sugary pop is going out of fashion in many markets. "Consumer tastes are moving and if we don't move faster then we will become irrelevant."
The biggest challengers are coffee, tea and energy. And plans for a Coke energy drink (and accompanying zero-sugar version) were revealed last week, much to the chagrin of Monster Energy (Coke has distributed Monster for years in the UK and across the world since 2014 after taking a 16.7% stake). According to a spokeswoman, Coke is currently waiting on an arbitration panel to decide whether Coke can compete with Monster.
Coming soon?
Coca-Cola Frozen: a slushee-style, frozen RTD pouch of Coke, launched in April in Japan
Coca-Cola 'crafted' sodas: Coke duo flavoured with fruit from Georgia and California to cash in on the craft boom hit the US in February
Coca-Cola Energy: a caffeine and guarana-enhanced variant has yet to be confirmed but it's the subject of a Monster row
Coca-Cola Plus Café Espresso: a blend of Coke and coffee made with 40% more caffeine and 50% less sugar, this Brazilian variant launched in July
Coke used to be "very conservative" with its core brand, says Meza. "It took years to even consider Diet Coke, and when we did it for the first time we didn't even call it Diet Coke - it was Tab. We needed to be more entrepreneurial, take risks and move faster."
Coke is also currently expanding Coke Plus Coffee into numerous global markets after an initial eight-market trial, with plans to be in more than 50 by this time next year. The UK will likely be one of these. A concrete launch date for the SKU is yet to be confirmed, but it is understood conversations with Coca-Cola's GB wing have already begun.
Further afield, things get weirder. In Japan, for instance, Coke now sells a surreal 'added-fibre' version with five grams of indigestible dextrin, which Coke claims suppresses fat absorption after large meals. In short, it's meant to help those used to a Japanese diet easily digest fattier western foods.

Even more intriguing is the move to transition Coca-Cola Zero Sugar to Classic Coke's red and white colour scheme. Meza says Coke anticipates that Zero Sugar will overtake sales of Classic across the world, though he admits it may not be for some years yet. Given its performance in the UK, where Coca-Cola Zero Sugar is up 38.6% over the past year, compared with 2.9% and 8.7% for Coke and Diet Coke respectively [Nielsen 52 w/e 8 September 2018], this could happen sooner rather than later.
"This is why in 2016 we had the idea to reposition the Coca-Cola brand," says Meza. "We had to say that the 'brand idea' is bigger than any one of the products. Once you stop looking at the brand as a single product, launching NPD is not as dramatic."
It took five years to develop Coke Zero "not because the product was difficult to create but because we approached it like we were developing a whole new brand," says Meza. "What we have today is one brand idea and we can play with the products as much as needed."
Questioning 'holy grails'
The promotion of James Quincey, who masterminded the acquisition of a stake in Innocent in 2009 and its subsequent buyout in 2013, from COO to CEO in 2017 marked a turning point. "Since James took office we have been encouraged to play more with products and packaging," says Meza.
Arnab Roy, senior global director and brand lead for Coca-Cola, says since Quincey took charge "holy grails" are now being questioned. "Historically you could not play with the formula, only add things like vanilla or orange," he explains, and even then, it could take two to three years to bring a new product to market. "It was a very long, bureaucratic process. So we've attempted to be more nimble and give more power to the individual markets."
Like the rollout of Coke Plus Coffee in Vietnam. "In Vietnam, coffee is massive. So you have to steal share from coffee, and you do that by analysing at what part of the day Coke can play a slightly better role. We decided to focus on the 2pm afternoon slump, so we've been focusing on Coke as one of the solutions for beating that."
The more outré of Coke's recent innovations may never make it to the UK, and there are a lot of what-ifs hanging over these recent launches. Some are unashamedly niche, relevant only to specific regional markets. But the likes of Coke Plus Coffee or Coca-Cola Energy are more of a safe bet - the UK is mad for both of those categories. Coke would have no problem building distribution.
The only question is whether Coca-Cola, being so intertwined with carbonates, would be able to tempt shoppers away from major players in those categories. But if it plays its cards right, the second age of Coke could be off with a bang.