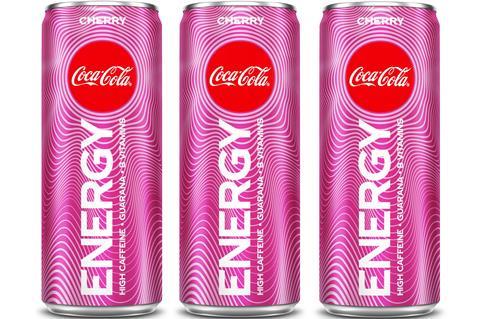 Coca-Cola European Partners has expanded its energy drink range with a Cherry flavour.
The new drink (rsp: £1/250ml) is made with naturally derived caffeine, B vitamins and guarana extract.
It would "broaden the appeal of the range" and "help retailers to capitalise on demand from flavour innovation in the energy sector" said CCEP.
The supplier has also tweaked the recipe for the existing Coca-Cola Energy drinks – launched last April – to give them an "extra Coca-Cola taste". They also have a new look that "draws greater distinction" between the full-sugar and and sugar-free variants, with a larger 'no sugar' band at the top of the can.
The Cherry SKU features the revamped design in pink, a colour CCEP said delivered "maximum on-shelf standout".
The new flavour would "help the range appeal to a broader audience of both cola and energy drinkers" said CCEP VP of commercial development Simon Harrison. And the overhaul of the range would "no doubt help fuel sales for retailers this year and beyond".