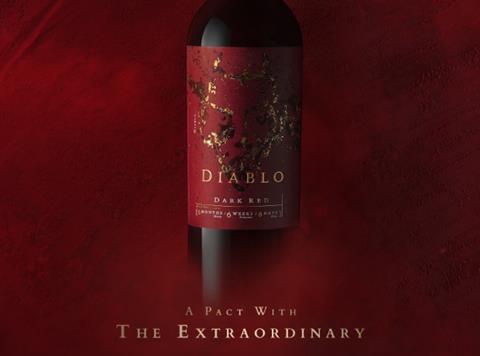 Concha y Toro is launching a new premium "dark red" wine brand, called Diablo.
The blend of Chilean reds is aged for six months, six weeks and six days in homage to its Satanic namesake (rsp: £15/750ml), with bottles featuring a caricature of the Devil on the label.
The wine was a "tongue in cheek" nod to its sister brand Casillero del Diablo, but would target a new market, the winemaker said.
"The landscape in terms of who is buying wine is changing," said Ben Smith, head of corporate communications at Concha y Toro UK. "We're targeting the millennial group - people who are searching for experiences and something unique rather than shopping by varietal".
Premium red blends were in "massive growth", he added. "Where blends previously may have been considered somewhat inferior, there's a real shift now towards them as a unique style."
Diablo would sit alongside Concha's flagship Casillero del Diablo portfolio rather than within it, he said, as the Casillero range had "its own tier and structure".
It's the second new brand from Concha y Toro to hit the UK this month: earlier this week the business announced the rollout of 1000 Stories, a posh Californian red zinfandel aged in bourbon barrels, which Concha said would tap "urban male" drinkers and craft booze fans.
"There are a number of new challenges in the wine category and we're having to be creative in how we address them," said Smith, adding there was a pipeline of new premium products to follow.
"Premium wines are practically the only part of the market that are showing growth in all measures, so it's a good area to be in. Our quality credentials are widely recognised and we're confident we can deliver further up the premium scale."