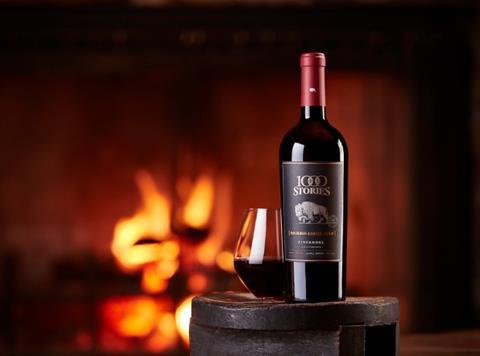 Concha y Toro is bringing 1,000 Stories, its posh Californian wine aged in bourbon barrels, to the UK.
The upmarket wine, a red zinfandel (14.5% abv), rolls into Sainsbury's and Ocado this month with a hefty £18/750ml price tag, with an eye to tapping "urban male wine drinkers with a focus on nuanced flavours - seen in craft beer, spirits and premium mixers", said Concha y Toro.
There had been "a real blurring of lines in the drinks category, with combinations like vodka and cider, whiskey and tequila and even 'craft wine' making an impact", added Concha y Toro senior brand manager James Hick. "By giving the shopper a clear added benefit - the bourbon barrel ageing - we're enticing them to trade up in quality terms."
It was hoped the brand would be able to replicate its Stateside success, Hick added, where sales had risen from 5,000 to 120,000 cases in the past five years.
1,000 Stories was "launching in the only category where all shopper measures: penetration, frequency, volume per trip, average price per unit and total households, are in growth - the £10 and above category", said Hicks.
The news comes as average prices have surged in the wine sector. Exclusive research by The Grocer revealed last month that while Brits splashed an extra £192.7m on wine in 2017, volume sales rose a marginal 0.8% - meaning nearly all that added value was down to prices surging and premiumisation [Kantar Worldpanel 52 w/e 31 December 2017].
Indeed, value sales of Concha's flagship red, Casillero del Diablo, grew 2.5% (£3.1m) to £128m over the past year, on volumes up just 0.7% [IRI 52 w/e 3 February 2018].