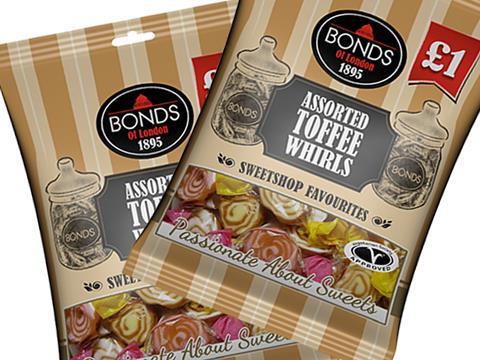 Confectionery supplier Bonds is aiming to tap growing demand for vegetarian sweets with the launch of four new products.

It is claiming an industry first by rolling out meat-free versions of two products it describes a 'retro classics' - sherbet Flying Saucers (rsp: 59p/25g), and individually wrapped Assorted Toffee Whirls in vanilla, strawberry and banana flavours (rsp: £1/150g).

Bonds is also launching two festive-themed vegetarian confectionery items: Bonds Fun Boxes Fudge Reindeer comprising fudge pieces in a reindeer-themed gift box (rsp: £1.50/150g); and Bonds Fun Boxes Bah Humbugs in a Santa-shaped gift box (rsp: £1.50/170g).

All of the new products have been certified by the Vegetarian Society's Seeding Symbol.

"Our vegetarian range has always been well received and by diversifying our meat-free offering we're continuing to provide retailers with a varied range that is seasonally relevant and simple to merchandise," said Bonds Confectionery MD Philip Courtenay-Luck, adding there were more than a million vegetarians in the UK.

"By stocking vegetarian versions of traditional favourites, retailers are able to appeal to a wider audience and capitalise on the growing number of consumers following a meat-free diet, while still retaining their usual customer base," he said.