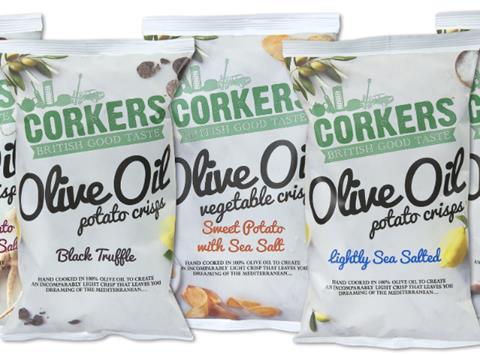 Corkers is set to launch an eight-strong range of olive oil crisps, in a bid to return value to the "heavily discounted" handcooked crisps category.
The result of around seven months' development, the new snack lineup consists of six potato variants and two vegetable, combining British vegetables with olive oil from Andalusia. There was a clear gap in the UK market for olive oil crisps, said Corkers co-founder Rod Garnham. The NPD would tap trends for simple cooking, fresh produce and Mediterranean recipes, he added.
The potato snacks include Rosemary & Garlic, Black Truffle and Mediterranean Cheese & Roasted Onion, while the vegetable duo comprises Sweet Potato with Sea Salt, and Parsnip, Sweet Potato & Beetroot with Sea Salt. The latter product was the UK's first mixed vegetable crisps cooked in olive oil, Corkers claimed. Rsp across the range is £1.99, with potato variants in a 130g bag and veg in 110g.
"We're completely on trend with what we've done," Garnham said. He hoped the brand's new range would return value to the handcooked crisps category – once "the shining light of the snacking aisle". But now they were "so heavily discounted they've become almost a commodity".
Corkers' olive oil range will roll out from 24 August. Its launch follows a £1.5m investment in production and packaging equipment at the brand's farm in Ely, Cambridgeshire, creating 24 extra jobs.