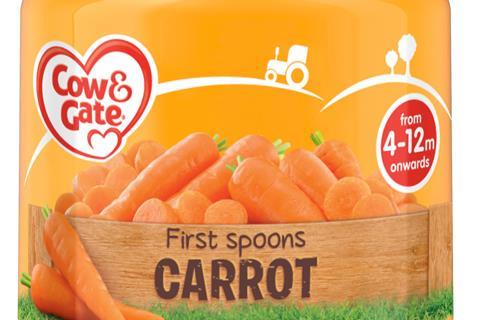 Cow & Gate has launched a range of single-vegetable meals, First Spoons, which the Danone brand claims has a higher veg content than any rival babyfood product.
Made with steam-cooked vegetables and no artificial preservatives or colouring, First Spoons' Peas variant is 66% peas, while Carrot is 90% carrots.
This meant the duo provided "at least 32% more peas and 9% more carrots" respectively than the equivalent single-vegetable meals by Ella's Kitchen, Cow & Gate claimed. Ella's Carrots Carrots Carrots is 82% vegetable, while its Peas Peas Peas is 50% veg.
Packed in a jar, First Spoons was aimed at making it easier for parents to move their babies on to more complex food, said Cow & Gate. "Beginning weaning with single vegetables increases the likelihood of a baby developing healthier eating preferences and accepting more bitter flavours."
The lineup (rsp: 65p/125g) is available now in Asda, and set to roll out across other leading grocers and Boots.
"The first stage of the weaning journey is a critical one, as good early nutrition choices are key to developing positive lifelong eating habits," said Sandra Eglau, Cow & Gate marketing director. While infants were predisposed to sweeter flavours such as fruit, "through the regular introduction of vegetables at a young age, parents can help their babies learn to love them".