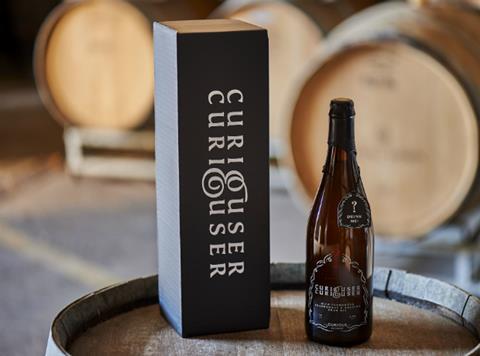 Curious Brewery has launched a range of small batch brews with "a winemaker's twist", created in collaboration with other regional brewers and packaged in wine bottles.

The craft beer brand owned by English winemaker Chapel Down has unveiled the first in its Curiouser & Curiouser series. Called Chapter 1, it is a 4.9% abv wild-fermented chardonnay & bacchus sour ale made with the Somerset-based Wild Beer Company (£20/75cl).

Chapter 1 was "a uniquely complex beer" said the brand, having been barrel-aged in chardonnay and bacchus wine yeast. "The fresh acidity from the sour ale is balanced by the smooth and textural flavours characteristic of English wine."

Just 1,500 bottles have been made, available through Chapel Down's website. It is unclear how many more brews will join the range, but Curious Brewery MD Gareth Bath said more would follow before the end of 2018. Each drink will take a different chapter number.