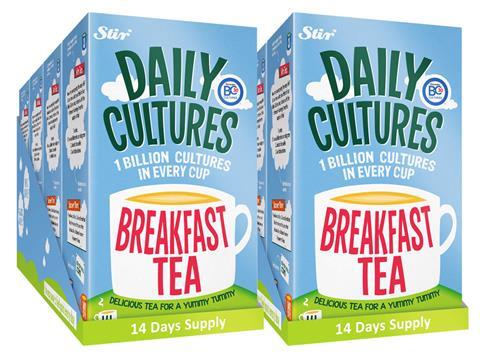 Clipper Teas founder Mike Brehme has launched a range of probiotic teas that contain a patented strain of the 'good bacteria'.
The Daily Cultures range from Stir Drinks, co-founded in 2010 by Brehme to bring "true innovation" to the drinks category, will be rolled into Tesco NutriCentre next week in breakfast, green and peppermint, in boxes of 14 teabags providing a fortnight's supply (rsp: £4.95).
Each teabag contains more than one billion friendly bacteria thanks to the inclusion of Ganeden BC30 - a probiotic that Brehme said had been proven to be up to 10 times more effective than some dairy cultures commonly found in products like yoghurt.
The trio, which is dairy, sugar and gluten free, would appeal to health-conscious consumers looking for a "convenient tasty" way to support digestive health, said Brehme. "People are used to the concept of friendly bacteria and digestive health but don't want the fiddle often associated with some dairy products."
The Bath business holds the UK patent for the probiotic, which Brehme said was already "widely used" in the US in food and drink products, and had been approved by the FDA and by Efsa. "The US is well ahead of the UK with probiotics with Stir trailblazing in the UK," he said, adding the initial reaction from buyers had been "terrific". "They instinctively understand the benefit of Daily Cultures."
Claire Nuttall of The Brand Incubator said it was a "great" concept. "Many people avoid dairy, so it will bring real benefits to this audience in an accessible and convenient format."
The launch marked the first of a "raft of innovative NPD" to be introduced over the next few years - all based on the company's 'naturally better' strategy, said Brehme.