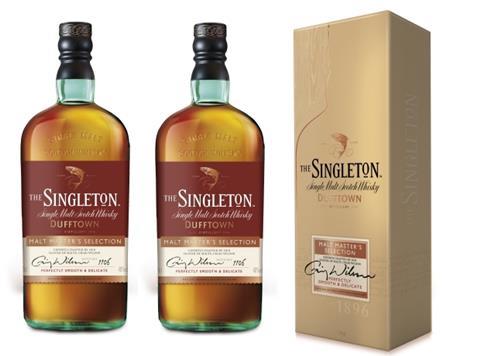 Diageo Reserve is looking to woo reluctant Scotch drinkers with a new "easy-drinking" single malt from its Singleton distillery.
It has launched Singleton Malt Master's Selection, a "more delicate, slightly sweeter take on the classic Speyside style", according to Diageo, with an eye to providing "a perfect introduction for those who are new to single malts". The 40% abv whisky has rolled out with an rsp of £30/70cl.
The packaging of the entire Singleton range - which includes 12, 15 and 18-year age statement whiskies - has been given a refresh "which takes its inspiration from a 19th-century hip flask" with batch number, tasting notes and the master blender's signature. Diageo said it would "help consumers navigate the single malts category, while the traditional cues provide reassurance and confidence of choice".
"Consumers are becoming more knowleadgable, they're looking for new liquids to try and are genuinely interested in craftmanship," said head of Diageo Reserve Nick Temperley. "[The NPD] will appeal to those new to the category while still complementing the collection."
Single malt sales far outshone those of blended malts over the past year, with value sales growing by a cool £16.5m (8.5%) to £210.8m - the equivalent of an extra 466,785 litres. Blends, although still making up the majority of whisky sales, fell by £11.6m (4.3%) to £725.9m [Nielsen 52 w/e 24 March 2018].
However, single malts were outsold by American whiskeys, sales of which surged by an eye-watering £29.5m (14.2%) to £237.9m.