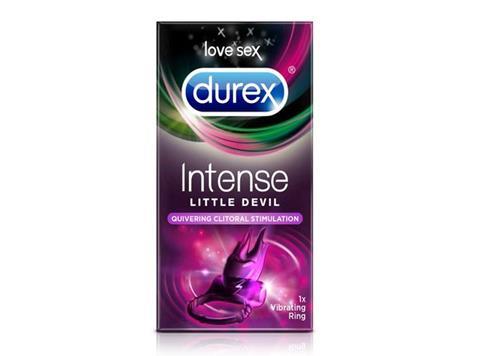 Durex has unveiled Intense, a sex care range aimed at helping women reach orgasm, backed by a £2m marketing push.

Available now, Orgasmic Gel (rsp: £9.99) promises sensual warming, cooling and tingling sensations. It is joined on shelf by Intense condoms (rsp: £9.99x6 /£14.99x12) and a toys lineup comprising Delight Bullet (rsp: £4.99), Little Devil Vibrating Ring (rsp: £6.99) and Vibrations Vibrating Ring (rsp: £9.99).

The new collection would create a "whole new category" designed to help the "two in three" women who do not climax regularly, said the Reckitt Benckiser brand.

From 17 April, a 20-second TV ad for Intense will run across channels including ITV and C4 for five weeks, tied to the hashtag #OrgasmsForAll.

"Orgasms should be everyone's to enjoy," said Elise Cockley, RB UK marketing manager. This year would be a "bold" 12 months for Durex, she added.